As an Amazon Associate I earn from qualifying purchases.
How often do we look for the contemporary options for decorating the interiors of our homes?
Yes, that's something on the mind of everyone who loves their home and wants to keep it their luxurious and relaxing hideaway. Lately, the Hamptons style homes are inspiring most homeowners with their refined and relaxed vibe as they deliver a unique pleasure soon as you enter the place.
Boasting of a beautiful neutral palette with some accents of the ocean-inspired hues, a nod to the seaside style and some warm hints of timber all combine to give you a timeless style of decoration for your home's interior.
Now, whether you are just planning to add a bit of holiday-inspired look to your home or want a complete transformation right throughout your property, here we have a few ideas for you.
With these simple ideas and Allen+Roth products, you can incorporate the Hamptons style in all the rooms of your home.
Ideas For Living Room
Living room, undoubtedly, makes one of the most important spaces in your home and you have to ensure that it's well taken care of. In fact, that's where you should start your Hamptons-style interior decoration project. A few things you should go within the living room include:
A calming blue and white color palette with lots of cozy accessories to make your relaxation zone comfier and still looking modern and sophisticated. Window treatments can be kept white so you can achieve the look with white

Allen and Roth curtains

and

blinds

.

Cushions and throws for adding some color and texture to space along with fresh flowers having complementing colors to the overall décor. Remember, you're always safe to go with the white color.

Some timeless furniture items with neutral colors instead of what's trending right now because Hamptons homes are more about a classic touch.

Woven baskets for some decorative storage. Obviously, they give you an easy option for adding some seaside style into your living space.
Ideas For Kitchen
No home décor project would be complete without a facelift given to the kitchen area. So, here we have a few things that you can try to create your Hamptons-style kitchens:
Predominantly, Hamptons-style kitchens tend to be in white color. So, you have to make sure that particular attention is paid to finishing details like moldings, wall plates, handles, and tiles (for example, check out Allen+Roth tiles) as they all add textured layers. Don't forget about countertops:

White quartz

by Allen+Roth is perfect for achieving this look!

Choose tapware in traditional style because they can add that classic touch to your kitchen which is common to a Hamptons look.

White, paneled

shaker-style cabinetry

makes a typical choice for this type of decoration project. Go for something that uses hooded knobs and pulls with chrome or silver finish.

Add a few statement pendants along with bar stools for tying the entire look together while getting a unique decorative touch.
Also, check out these tips for remodeling kitchen on a tight budget.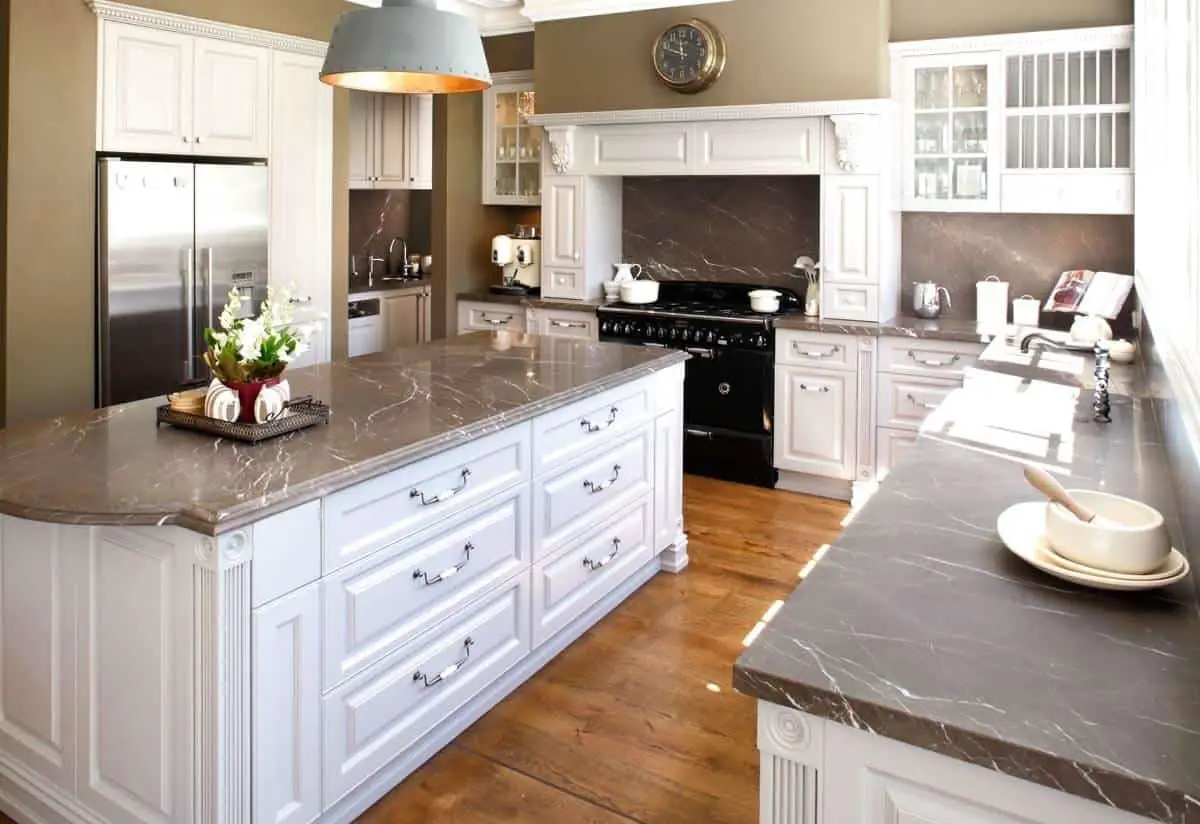 Ideas For Bedroom
Your bedroom is a private space where you'd want something more special and soothing. Consider these ideas below for a perfect Hamptons style.
Go with printed linen with lots of blue colored accents (like

this gorgeous Brookford handcrafted rug

) giving perfect touch to your private hideout.

Balance it all out by creating a more relaxed and refined look with time-worn, soft linens as well as oak flooring and some rustic furniture made of top quality timber.

You can always credit the seaside heritage of this style with some coastal-inspired décor elements in turquoise, blues, rattan, and timber.
Ideas For The Entryway
Now, that's the place where anyone visiting your home gets the first impression and it sets the mood for the entire décor of your home. You can style it to perfection with some Hampton style décor ideas below:
The colors used in the entryway should be the ones that you want to decorate your entire interior with. Choose some neutral palette and add a touch of ocean-blues to go for a perfect overall style.

It is integral to add a touch of natural textures and wood and that makes a cool timber sideboard a perfect choice to start decorating the entryway.

Keep things simple and use some classic lamp (Allen Roth

Vallymede light fixtures

would be ideal for that), a bit of greenery and rattan baskets to create a naturally classic vibe. You can use some indoor plant and may also go with a few cuttings showcased in a beautiful vase.
Some Other General Tips And Ideas
Besides following the decoration ideas for each space presented above separately, remember some of these key principles to design perfect Hamptons-style homes:
Let the nature takeover:

Now, that doesn't really mean you have to go for an oceanfront view rather you can think of coastal gardens, ample natural light coming in, etc.

Only Go With Neutrals And Nautical Themes:

Different shades of blues, whites, and neutrals can make for a perfect decoration idea for achieving Hamptons style. You can also go for two-tone florals and stripes as well.

Embrace Weatherboard Having Open Arms: This can make a timeless choice for the exteriors. Made traditionally with timber, nothing can be more true to Hamptons-style than the weatherboard facades. For a budget choice, try Beadboard Wallpaper.
Here are some Allen Roth products that can help you achieve the overall look:
So, what else do you need for creating a perfect Hamptons-style décor in your home's interiors?
You have all the elements, the key principles you need to follow, and some cool ideas and Allen Roth products outlined individually for each room in your house. All you need to do is to get on with the project and start decorating your place to carve out an interior that's more pleasing and relaxing than anything else. You'll surely love the end result!
Amazon and the Amazon logo are trademarks of Amazon.com, Inc, or its affiliates.
Last update on 2023-11-23 at 11:11 / Affiliate links / Images from Amazon Product Advertising API