As an Amazon Associate I earn from qualifying purchases.
An Allen and Roth vanity can completely change the way you feel each time you step into your bathroom. Whether you are redecorating from scratch or just looking to change one element in your bathroom, these Allen and Roth vanity options are out of this world.
I always get excited when I talk about this kind of furniture, especially as a woman that sees the bathroom as a safe haven and the optimal space for relaxing and winding down.
I wanted to share some of the awesomeness I discovered when looking into Allen Roth vanities, in the hopes that you'll be as enthusiastic about these pieces as I am.
The Wonderful World of Allen + Roth Bathroom Vanities
Choosing a model between the so many available options can be really puzzling, especially since there are so many exquisite choices! Made from solid wood with a wide variety of finishes, there is clear craftsmanship here.
The Allen + Roth vanity of your choice needs to match the overall appearance and design of your bathroom. For example, those of you interested in making use of every bit of extra space will love the Dorset model.
To eliminate headaches, I strongly suggest looking into vanities that have integrated tops and sinks. Alternatively, those of you that like to explore your options can always look into the different varieties of tops, which are sold separately. This leaves more room for playfulness and customization, so you can truly create a stunning bathroom design.
One of the most important benefits brought by Allen + Roth vanities is their practical use of every square inch of storage space. Almost no inch of their vanities is left unused, as the furniture boasts generous drawers and cabinets.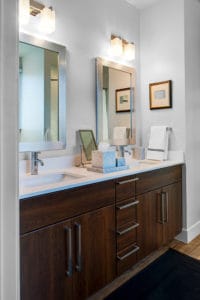 Features & Benefits
With Allan Roth vanities, it's all about quality and looks. They are not the most affordable choice in terms of bathroom vanities, nor are they the easiest to install, but once you get those two aspects out of the way, you end up with a completely revamped bathroom.
Design
All your Allen Roth vanity choices are divided into different hardwood and veneer elements, which are adorned with compatible hardware. While the design clearly differs from one model to the next, you have a complete collection that provides great flexibility in terms of how your remodeled bathroom will look. To achieve a complete look, check out Allen and Roth tiles like Bullnose Tile that go perfectly well with these vanities.
Storage Space
Every Allen and Roth vanity comes with included drawers, cabinets, or both, for you to benefit from every square inch of space behind those wooden panels. The number of drawers and cabinets varies from one model to another.
For smaller bathrooms, you have adequate vanity sizing, but almost every model is available in both a smaller and a larger version. Naturally, cabinets with extra width and depth will provide more space for your towels, cosmetics, and other bathroom products.
Sinks & Tops
Choosing an Allen and Roth vanity with an included sink saves you the hassle of trying to figure out how to combine the furniture with a sink that matches it in both style and shape. These integrated solutions are part of what makes the brand so popular.
Purchasing a separate sink and top from another brand can result in so many headaches, so if you don't have the free time to look, combine, and narrow down your options, a complete vanity with a top and a sink is your best option.
Changing the bathroom vanity is one of the easy DIY ways to refresh your bathroom meaning you can do it on your own! Check out this Lowes video to see how to install a bathroom vanity:
Here's another one:
Allen + Roth Moravia Vanity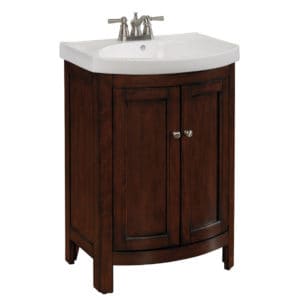 This Allen Roth vanity is the perfect choice for compact spaces. The base and the walls of the vanity are made with CARB compliant MDF, combined with real wood veneer. The two front drawers open to reveal plenty of storage space, including a bottom drawer that can be used for towels or toiletries.
Ideal for small bathrooms and homeowners looking to save space, the Moravia vanity measures 23.4 inches in width and 18 inches in total depth.
The vanity is equipped with a vitreous china ceramic top and a convenient sink that matches the design of the cabinet.
Pros:
  

Compact, great for small bathrooms.

  

Drawer included inside the tall cabinet.

  

Spacious sink, despite its small size.

  

Well-packaged.

  

Affordable price.
Cons:
  

Not a lot of storage space.

  

Inner drawer can interfere with the drain.

  

Questionable sink finish quality
Allen + Roth Alabaster Vanity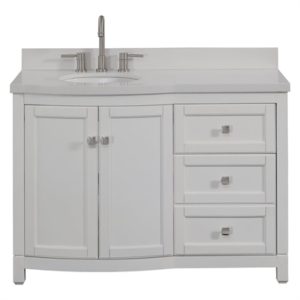 When looking for a white bathroom vanity piece, I came across the Alabaster model. This particular model features two cabinet doors that are accompanied on the side by three spacious drawers with brushed nickel hardware.
The side panel materials combine MDF with wood veneer, which I discovered is an Allen + Roth signature vanity style.
The cabinet measurements are 21 x 35 x 49 inches, with an elegant, white-painted finish, perfect for bathrooms that are looking to bring in light and create the illusion of extra space.
On top of the vanity lies a vitreous china oval sink, with a maximum depth of 6 inches. The white stone top blends in perfectly with the rest of the cabinet's design, creating yet another Allen Roth bathroom vanity for people looking to remodel their bathrooms in good taste.
Pros:
  

Features soft close hinges.

  

White stone backsplash included.

  

Decorative hardware included.

  

Modular design with generous space.
Cons:
  

Scratchable surface.

  

Faucet not included.

  

Not a 4-inch centerset, as described, but an 8-inch widespread.
Allen + Roth 30-inch Bathroom Vanities
If you're looking for a 30-inch bathroom vanity with Allen + Roth as your preferred brand, I'm happy to report that there is a wide selection of products to choose from, satisfying a large palate of individual tastes.
Here are some cons and pros of this vanity line:
Pros:
  

Wide range of models available.

  

Colors that range from pure white to navy blue.

  

Models suitable for all bathroom sizes.
Cons:
  

More spacious models come at a higher cost.

  

Faucets not included in any of the models.
From simple white cabinets with stone sinks to navy blue drawers with gold hardware, there is something here for every taste:
The Moravia Vanity
Features a white finish with an Italian Carrara marble top. Available in smaller and more generous versions, the cabinets feature adjustable hinges, brushed nickel finish hardware, and vitreous china sinks.
The Presnell Series
Comes in a beautiful navy blue and white dove shade, with solid wood construction and cabinets and drawers with gold hardware. The matte finish is topped with natural marble, while the ceramic sinks are white and rectangular, for an amazing contrast.
The Everdene Collection
  

On the pricier side of things, the Everdene models feature a vanity that stands out in its elegance and unique detail. The reversible door panels are complemented by an optional antique mirror, creating the illusion of space, while adding finesse to any style of bathroom decor.
Allen + Roth 60-inch Bathroom Vanities
If your space gives you the luxury of housing a larger Allen Roth bathroom vanity, the 60-inch models are a sight for sore eyes.
Here are some cons and pros of this vanity line:
Pros:
  

Variety of double sink models.

  

Larger and more spacious version of the 30-inch models.

  

Available in different colors.
Cons:
  

Considerably pricier than the 30-inch versions.

  

Faucets not included.

  

Require a lot of free bathroom space.
Almost every vanity that's available in a 30-inch version has a larger counterpart, so you can decorate your bathroom in good taste, choosing between models such as:
The Kennilton
Made from MDF and wood veneer that features a gray oak finish with matte black hardware. Topped with generous drawers and complemented by a ceramic white sink and a Carrera white top, the Kennilton is a great example of how traditional pieces can perfectly incorporate modern items.
The Perrella Collection
The perfect double-sink choice for couples that enjoy their morning routine together. Each sink has its very own set of cabinet doors, with a middle tower of drawers that provides plenty of storage space, not to mention exquisite detail, such as the brushed nickel finish hardware.
The Wyndham Collection
For more modern setups, the Wyndham collection features models that combine high-grade MDF and a melamine laminated exterior. The sealed finish goes hand-in-hand with the chrome hardware, creating a bathroom vanity that is minimalistic, but contemporary.
Conclusion
A lot of things can go south when you opt for the wrong kind of bathroom vanity. If you don't allow yourself sufficient time to browse through all the options, you may make an impulse decision and end up with a product that doesn't exactly match the rest of the bathroom decor.
You could also end up paying too much for a low-quality product and end up with a vanity that has a surface that is easy to scratch, or a sink that is prone to breaking or chipping if you drop your perfume bottle on it. Or, you could have problems when looking to buy the vanity and a matching sink separately.
All of this and much more can be solved with Allen and Roth vanities.
Made from quality materials, your options are only limited by your available bathroom space. Depending on the model chosen, you can get plenty of storage space for your toiletries, while also enjoying a high-quality product that showcases everything that's cozy about your bathroom.
Amazon and the Amazon logo are trademarks of Amazon.com, Inc, or its affiliates.