As an Amazon Associate I earn from qualifying purchases.
Allen Roth closets will never leave you hanging! When I was a kid, we had very standard closets in our house. (Well, they were standard for that era, at least!) The bedroom closets we kids had were small by today's measures but did hold our wardrobes and some toys. Admittedly, our very regular size closets were always a mess. Our parents' closet seemed spacious at the time, but would today be considered a very minuscule walk-in closet.
Most of today's homeowners would not find the closet space from my childhood at all adequate. And forget about closet organizing systems—practically no one had anything of the sort back then.
Closet space and organization are premium features for today's buyers, with many listing it as one of their top requirements. While there are many purposes for closets these days—linens, utility, pantry, coat, and halls—the two basic types of closets are the reach-in or wall closet and the walk-in closet. Reach-in closets are usually 24"-30" deep and from 3-8 feet wide. Walk-in closets vary in dimensions, depending upon the house. I've seen master bedroom closets that were like a room unto themselves!
My Closet Story
When my husband and I were shopping for our home, we were very observant about closet space.
Consequently, we chose a home with an abundance of closets! Our closets include two for linen, a kitchen pantry, a utility closet, and –of course—closets in our bedrooms. Our child's room has a 30" x 5' reach-in closet, effectively meeting a 5-year old's needs for wardrobe and toys. Meanwhile, we have a nicely-sized walk-in closet measuring about 5'x8'. Our closet has ample space, so I chose an Allen Roth closet system in our closet to help with organization. Ours is a white closet kit with an extra white closet tower.
We love it's fresh, clean look. In our living room, we have two gray closet towers installed in our coat closet for additional storage and organization. Even after several years of use, wear, and tear, we love our Allen Roth closets!
Ever since I got my first Allen and Roth closet, I've been obsessed with how practical it is and how stunning it looks. Sadly, a lot of you have approached me upset about Lowe's lack of closet catalog, which makes shopping for a closet more difficult than it has to be.
With that in mind, I wanted to help you out, so I did the homework for you and wrote this catalog-like article. Stay tuned, as we're about to explore what the world of Allen Roth closets has to offer. 
The Ups and Downs of Allen & Roth Closet Systems
There's a lot to be said about Allen Roth closet systems, so we'll keep things as succinct and accurate as possible. 
Their organizers and complete closet solutions are a more affordable alternative compared to the higher-end options out there. The reason why so many people are in love with these closets is because they look like premium products at a reasonable price.
Allen Roth closet kits are available in three color options, which gives you more decorating options and makes it easier to match with the existing elements of your closet. You can choose between:
Antique Gray (formerly known as Rustic Gray)

Java Wood

Antique White wood.
One downside that I feel obliged to mention is that, while Antique Gray and Antique White wood are true to the colors in the photos, the Antique White wood isn't the true white that most people expect it to be. 
Instead, it is more of a cream color. 
This is important to mention because there are some negative reviews from customers who were expecting to receive a white closet but ended up with a cream-white kit.
Unboxing videos
Here are a couple of unboxing videos that will paint a more accurate picture of what you can expect when you receive your Allen and Roth closet kit.
Here's a closet tower unboxing:
And here's a closet drawer unboxing:
What do the other bloggers say?
On her lifestyle blog julieblanner.com, Julie shares her experience with the Allen & Roth closet tower with shoe slots. What she loves most about the end result is how much space she saves with this complete system. She also mentions that she uses the stylish empty boxes to store trinkets.
On agperson.com, you can read about the author's complete experience with an Allen and Roth closet kit with ventilated shelves. While claiming that the end result is nice, it seems that the author feels that the instructions aren't always on point. It seems that trusting your gut, rather than following the steps, provides a smoother assembly experience. 
Even if the general opinion of the Allen and Roth closet kits, parts, and accessories is a positive one, customers aren't too happy about the hardware included as part of the assembly kit. 
Some of the included screws tend to be either too short or too flimsy, but it is easy to purchase the properly-sized screws. It is disappointing, however, for people who pay good money and expect to get everything they need in a single package, without buying more hardware. 
Video Reviews of Allen & Roth Closet Systems
Sometimes, a video is just what you need to shed light on a home renovation situation. 
Because of that, I have two awesome videos that might make it clearer on what you can expect from your Allen & Roth closet experience.
Integrating Allen+Roth closet into an existing layout
First, here's a video from Eric and Amy, sharing their personal experience with how they integrated Allen and Roth products into their current closet layout:
As you can see, they've chosen ventilated shelves from Allen and Roth, creating an organized space that will make it easier for them to find their clothes. They also maximized their space so they can actually move around in their closet. 
Eric describes the kit as "decent" and makes a few on-point observations that are gold for those who find themselves puzzled when mounting one of these systems on their own:
The layout of the kit makes it difficult to install low-hanging rods.

Some of the screws that come with the kit could be of better quality. 

The ends of the rods don't have security caps, which makes them prone to sliding off the system.

The kit doesn't provide a solution to install corner-hanging rods.
Replacing an old closet with the Allen+Roth system
This second video by the Cabinet Couple shows Jen's experience with an Allen & Roth closet.
Unlike the previous video, here you can see what the old closet looked like, which might be useful during your "getting rid of stuff I don't need" process. Notice how many people opt for wire shelving to create a more appealing and better-organized closet?
Jen opted for a wooden closet kit with shoe compartments by Allen and Roth, both in the Java color option. She mounted them on two opposing walls, creating a narrow corridor for her to swiftly browse through the closet with ease. 
The rather basic layout didn't present any complications upon assembly (at least not compared to Eric's closet redo), so maybe it's just a matter of having a couple of cats at home to help you along the way! 
What to Expect
Aside from the available Allen & Roth closet kits and towers, there are also accessories and replacement parts — in case you need more or the ones that come in the package are broken.
Replacement parts include wall brackets, rod brackets, and rod hooks. The accessories, meant to enhance your experience with the brand, include wire baskets, additional solid or ventilated shelves, or fancy closet drawers. 
Tips on Decorating Your Closet
Any type of interior decorating can be a blast if you have the patience for it. While some people look forward to getting their hands dirty and sprucing up their home, others dread researching all the modern trends in the closet industry.
To lighten up the situation in both categories, let's go through some expert advice on what cool closets look like:
Allen + Roth Closet Towers And Kits
The beautiful closet towers and kits available in the Allen and Roth collection provide plenty of versatility in terms of how you can design both a regular and a walk-in closet. 
8-ft Wood Closet Kit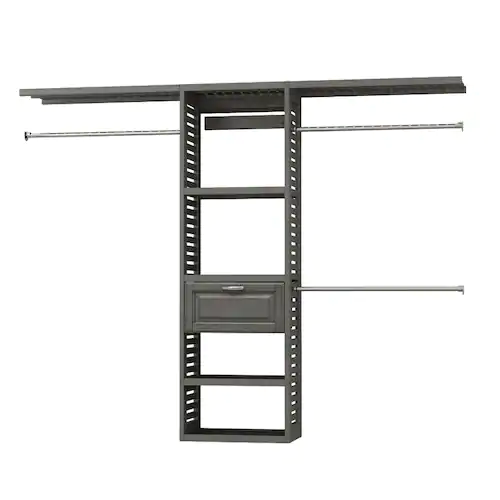 One of the best-selling pieces in the Allen and Roth closet world is this 8×6.6-foot system. It integrates a raised panel drawer kit, a ventilated closet tower, two ventilated shelves of three feet each, and three expandable closet poles.
Made entirely out of wood, the Allen and Roth 8-ft java wood closet kit comes in three chromatic options to choose from, including Antique Gray wood, Antique White wood, and Java wood. 
The complete closet kit is fairly easy to install, with little assembly required. The hardware is included, so there are no additional purchases required. Unless you get some that don't quite work or aren't the quality you want, then you can head to your local hardware store and upgrade. 
The drawer glides are made from metal and they open to the side, so they won't occupy too much space. The three rods are perfect for hangers, keeping shirts and dresses nicely organized. 
This ventilated wood closet shelving system is perfect for different situations, especially if your home is high in humidity and prone to mold. 
Pros:
Available in three color options.

Provides ventilation, for freshness and mold prevention.

All hardware included.

Quality wood construction at a good price.

Assembly process is fairly easy.
Cons:
Requires some assembly.

Some shelf cutting is required.

Antique White option often confused with basic white.
8-ft x 6.83-ft Closet Kit with Shoe Divider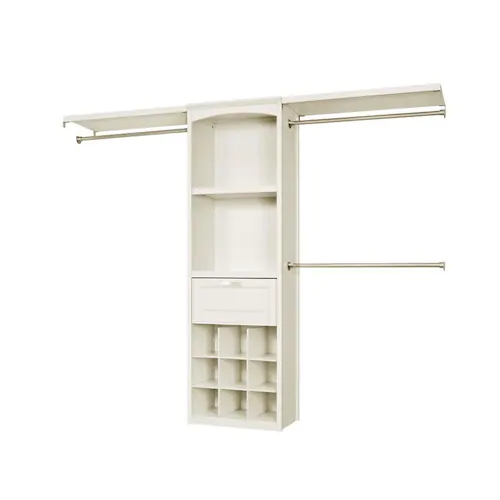 Another gem from the Allen & Roth closet world is this organizer that also features a shoe divider. This practical system is designed to store more than just clothes, with a shoe divider with nine convenient slots to keep shoes out of the way.
Besides the shoe organizer, this closet features three expandable closet poles, two solid shelves with a generous height for plenty of storage space, and a raised panel drawer kit, for keeping things out of sight. 
This Allen and Roth 8-ft x 6.83-ft java wood closet kit is available in Antique Gray wood, Antique White wood, and Java wood, to fit plenty of different setups. The satin nickel finish of the hardware gives the closet a premium look, while the entire closet system is designed with both versatility and elegance in mind.
Pros:
Available in three color options.

Two solid shelves with generous storage space (three feet in height).

All hardware included.

Nine slots fit for shoe storage.

Made with hand-selected wood veneer.

Closet poles are expandable.

Quality closet kit at a convenient price.
Cons:
Assembly directions are poor. 

Some shelf cutting is required.

Some cam locks are weak.
76-in Closet Tower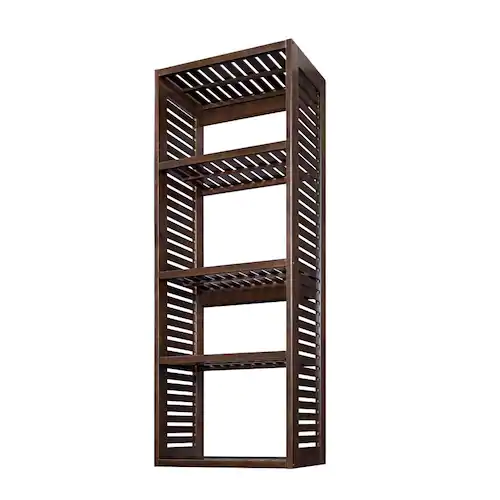 Either alone or combined with a closet kit, this Allen and Roth closet tower provides plenty of well-ventilated space for your jeans, T-shirts, tops, and other favorite clothing items. 
One could argue that the design of this tower is pretty minimalistic, but its solid wood construction screams quality throughout. 
As far as the color options are concerned, you have the same three options as in the models we've reviewed before, including Antique Gray wood, Antique White wood, and Java wood. 
You can attach wood drawer units to the system, or simply install it and use it without any add-ons, depending on what kind of closet setup you have in mind. 
When fully assembled, the closet tower measures 23.75 inches in width, 16 inches in depth, and 76 inches in height. The downside is that this tower is not compatible with any pedestal base, which means that you'll have to place it directly on the floor, should you consider such an option. 
Pros:
Compatible with wood drawer units.

Tower can be mounted independently.

All hardware included.

Comes with a one-year limited warranty.
Cons:
Not compatible with pedestal base.

Can't add additional storage shelves.
Allen and Roth Closet Replacement Parts
These aren't just replacement parts, but can also be add-ons to help you make the most of your Allen & Roth closet experience. You will notice that these options might require products such as hooks and brackets, but this information is mentioned on the product page. 
Rod Hooks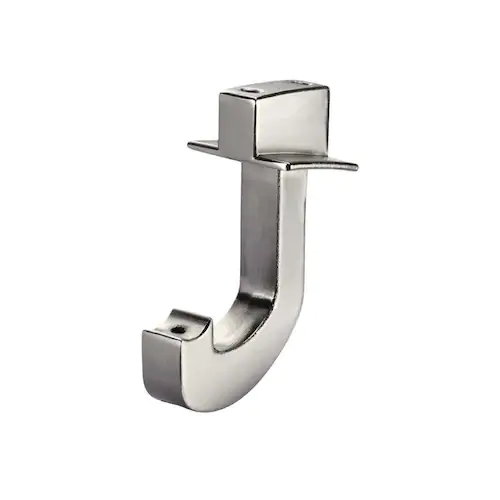 On your quest for the perfect closet, you might discover the need for additional rod hooks, because you can never have too many hangers to keep your best items wrinkle-free. Even if these Allen Roth satin nickel closet rod hooks are no longer available, you can find them in a different finish. 
At 1.45x 3.9×1.5 inches, these rod hooks can support both fixed-length and expandable rod poles, giving you more versatility in terms of customizing your closet layout. They are only compatible with Allen & Roth wood shelf brackets, either the 12 or 16-inch model.
Pros:
Compatible with extendable poles.

Works with Allen and Roth 12 and 16-inch wood shelf brackets.

Elegant brushed nickel finish.

Color compatible with standard rod chromatics.
Cons:
Only compatible with Allen and Roth wood shelf brackets.

Satin finish option no longer available. 
Rod Brackets
This beautiful wooden rod bracket caught my attention, showing once more than Allen and Roth closet systems are all about elegance and style. Instead of boring, ugly metal brackets for shelf support, you can buy this stylish Allen Roth closet rod bracket. 
With its beautiful cappuccino color and brushed wooden accents, this 16-inch bracket goes well with both solid and ventilated Allen and Roth shelves. The arched design is complemented by the brushed nickel supports, blending in perfectly with different types of Allen and Roth closets. 
The rod hooks that support the rods have to be purchased separately. Alternatively, you can use these brackets as they come and without attaching rods to them, if you like. 
Pros:
Stylish appearance.

Designed to be used with or without rod hooks.

Curved design, an upgrade from trivial metal shelf brackets.

Mounting hardware included.
Cons:
Compatible only with shelves measuring 16 inches in depth. 

Rod hooks have to be purchased separately.
Wall Brackets
Wall brackets are needed to support your Allen and Roth shelves. Briefly put, you will need one bracket for each wall stud. Even if your Allen and Roth closet kit does come with its very own set of brackets, you will need extras for any additional shelves you want to add to the system.
Pros:
Sturdy, capable of supporting the shelf.

Available in the kit, but also sold separately.

Easy to mount.

Slotted hole allows vertical adjustment.

Inexpensive.

Comes in a pack of two brackets.

 

Screws for mounting included.
Cons:
Doesn't adequately support the front side of the shelf.

Wood bracket required for shelf front. 
Allen & Roth Closet Organizers Accessories
Making the best out of your Allen and Roth closet kit and setup is all about picking the right accessories. Not only are these very practical, but they look great and will make you look like a closet organizing pro.
Closet Drawers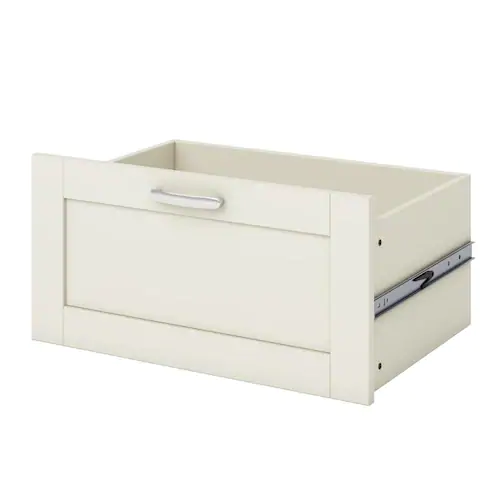 They say you can never have too many drawers and when you look at this Allen+Roth drawer, you'll understand why. Measuring 21.6×10.7×14.6 inches, this hardwood drawer is compatible with the bottom side of an Allen and Roth closet tower and you can add up to three of them to any given unit.
These Allen and Roth closet drawers have a sliding mechanism for opening and closing. Make sure that you remember that the white color option is more of an off-white, to avoid any color mismatches. 
The drawers are perfect for creating extra storage space and are great for small items, such as underwear, scarves, socks, gloves, hats, and the like. 
Pros:
Available in three color options.

Easy to assemble.

Quality gliding system for opening and closing.

Made from hardwood and hand-selected wood veneers.

Compatible with Allen & Roth closet towers.

Can add up to three of them to a single tower system.
Cons:
Not always true to the stated color.

Some drawers are smaller than expected.
Baskets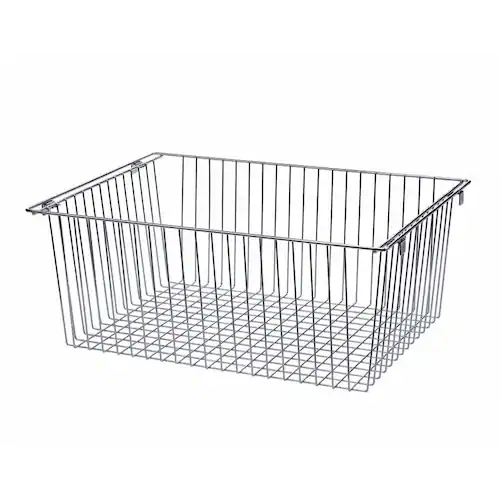 For more storage versatility, Allen and Roth offers accessory baskets, which conveniently provide a more modern storage option for your small items, like socks and belts. Made from nickel wire, the standard size of a basket is 20x8x14.75 inches.
These accessories are designed to be compatible with the gliding system of an Allen and Roth closet tower, but it seems that the holes of the gliders aren't always aligned with those in the closet tower. DIY aficionados can easily drill new holes, but be careful, as this can cause cracks in the closet.
Allen and Roth baskets can be used together with or instead of the traditional drawers that are available for separate purchase, to complement the tower system. 
Pros:
Can be used to replace or in addition to closet tower drawers.

Compatible with ventilated and solid wood systems. 

Bottom half of the tower can hold three baskets. 

Good for storing small items, such as socks or gloves.
Cons:
Wiring can be bend when pulled hard.

Gliding holes not always matched with tower holes.
Allen and Roth Shelves
Accessories aren't the only thing that you can purchase to add more storage and a refined look to your Allen & Roth closet kit. You can always opt for additional shelves in the sizing options that fit your setup best.
Solid Closet Shelves
Solid shelving fans are presented with these three options, each available in a different color and size: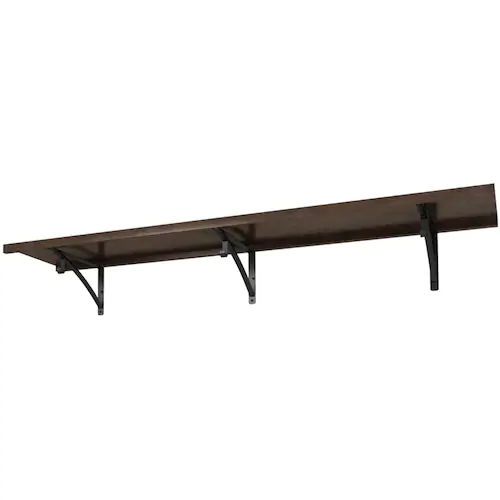 There is the 72×26-inch solid Java wood Allen Roth closet shelf kit. It includes three bronze shelf brackets, as well as the hardware necessary for assembly.

There's an Allen+Roth 21.6-in w x 16-in d closet shelf in an Antique Gray wood finish, which also includes the hardware required for assembly. It's compatible with Allen and Roth's closet towers, adding more storage space for your needs.

For fans of Antique White wood closet shelves, there's the 48×16-inch solid option. I'll just mention once again that this product has is a cream shade of white instead of true white.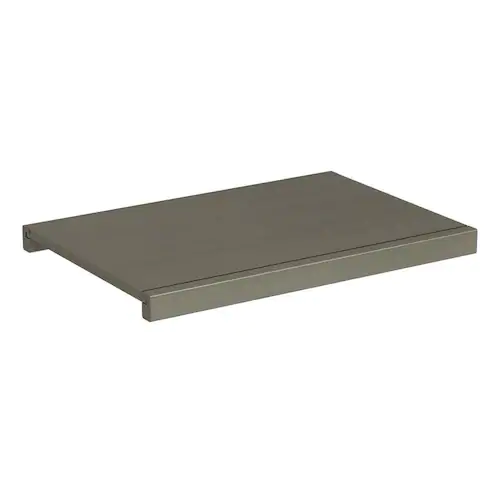 Pros:
Available in all three standard Allen & Roth colors.

Assembly hardware included.

Compatible with Allen & Roth closet towers.

Provides additional storage space for your Allen & Roth closet kit.
Cons:
Closet poles are sold separately.

Complaints about the scarcity of properly-fitting rods. 
Ventilated Shelf Kit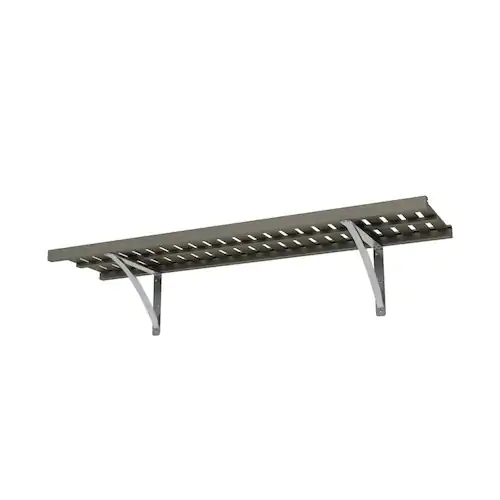 If you went for a ventilated closet kit and you'd like to expand your storage options, you can purchase an additional Allen Roth ventilated shelf kit. It's available in three color options, much like the other Allen and Roth closet kits: Antique Gray wood, Antique White wood, and Java wood.
Made from solid wood, you can trim the shelf to fit your current closet. The closet poles are sold separately, but the mounting hardware is included in the package. The shelves measure 48×16 inches and come with two nickel shelf mounting brackets. 
Pros:
Compatible with Allen & Roth closet towers.

Can be trimmed to fit.

Mounting hardware included.

Available in three chromatic options.
Cons:
Can be used as a floating shelf only if you use the middle section.

Rod hooks sold separately.

Closet poles sold separately. 
Allen Roth Closet Organizer Instructions
Since there seems to be a lot of people confused by the assembly instructions for the different Allen and Roth closet kits, I thought I'd give you some information on how this process should play out. 
The assembly process is very important because mishandling the components or making mistakes with assembly can sometimes damage the product.
Complete Closet Kit Installation Instructions
The Allen and Roth closet kit is one of their most highly-praised products, but the assembly process is quite tricky. There are many pieces and parts to be put together to get a solid and usable end product. 
Let's briefly examine the need-to-know information that will put you on the right path to a gorgeous and practical Allen & Roth closet kit.
For the cam lock:
Use the small holes on the panel to screw the cam bolt.

Use the panel's pre-drilled large hole to insert the cam lock.

The cam lock's arrow needs to point towards the cam bolt.

Connect the two panels, placing the cam bolt into the pre-drilled hole located on the cam lock panel.

Use a Phillips screwdriver to tighten the cam bolt after connecting it inside the cam lock.
Base assembly:
Release the lever on the drawer slide to allow it to fully extend.

Using cam bolts and M6 screws, attach the slides to the inside of the base.

Using large cam locks and wooden dowels, attach the base's sides.

Using large cam locks, wooden dowels, washers, and large bolts, attach what you've assembled to the back panels.
Hutch assembly:
Using large cam locks, bolts, wooden dowels, and washers, attach the side panels to the back panel along with two curved stretchers.

Take some large cam locks and wooden dowels to attach the hutch top.

Then, using large cam locks and barrel nuts, attach the hutch to the base you previously assembled.
Drawer assembly:
Using small cam bolts, small wooden dowels, and M4 screws, attach the sides to the back.

Take the bottom panel and slide it in the pre-cut notches.

Using small cam locks and wooden dowels, attach the drawer front.

Take some M3.5 wood screws to attach the metal slides to the sides of the drawer box and then attach the metal handle to the front.

Pinch the level in each drawer slide before easing the drawer box onto the slides inside the base you previously assembled. This will lock them in place.
Shoe organizer assembly:
Take the pieces of the shoe divider and slide each on in place using the pre-cut notches. 

Ease the organizer into the base you previously assembled.
Hanging your closet organizer:
Take the provided template and hold against the wall where you want to instal your organizer. Mark out your screw holes using the points on the template. 

Using M8 lag bolts and flat washers, put the tower in place and screw into the holes.

Take M4 screws, wall anchors, and L-brackets to secure a shelf in place on either side of the tower.
Pole installation:
Take some M4 wood screws, closed pole holder, and M4 self tapping screws, attach the pole holder to the wall adjacent to the tower. 

Place the pole where you want it, and tighten the screws.
Find the rest of the instructions on Lowe's website.
Ventilated Wood Tower Installation Instructions
Ventilated wood towers developed by Allen and Roth area easier to assemble compared to the closet kits. The steps and instructions are pretty straightforward, even for those who aren't very DIY minded:
Insert the wood dowels in the mounting cleat.

Place the barrel nuts inside the mounting cleats.

Place the mounting cleats with the beveled edge down to the right side panel and attach.

Use lock washers, small flat washers, and M6x60-mm bolts to secure the mounting cleats. 

Attach the fixed shelves using lock washers, small flat washers, and M6x40-mm bolts to the right side panel.

Use an Allen wrench to secure all the connections.

Repeat all the steps above for the left-side panel.

Place the tower upright.

Place the shelf pins level in the desired spot and then place the shelves on top of them.

You will need a stud finder to locate the edges of the wood studs.

Use a pencil to mark the centerline of each stud, so you have reference points for mounting. 

Drill 3/16-inch pilot holes in the previously-marked locations.

Attach the wall hanging cleats, making sure the beveled edge is facing upwards.

Ask someone to help you place the tower on the wall hanging cleats.
Find the complete instructions on the Lowe's website.
What Do You Think Of My Allen And Roth Closets Catalog?
I strongly hope that this Allen and Roth closet catalog serves you well in your quest to redecorate at least part of your bedroom. The important thing to keep in mind is that, while advertised as easy to assemble, some of these kits are actually quite complicated, especially when combining different kits and systems. 
if you are looking for a good storage solution for your bathroom, check out these Allen+Roth cabinets.
That being said, I would love to hear from you if you are about to immerse yourself in the world of Allen and Roth closet kits! Leave a comment with your tips and tricks and anything else you feel will help our fellow readers and don't forget to share this article if you think it might help a friend.
Amazon and the Amazon logo are trademarks of Amazon.com, Inc, or its affiliates.
Last update on 2023-09-18 at 10:50 / Affiliate links / Images from Amazon Product Advertising API