Are you looking to learn more about the Allen and Roth Lighting range? Lots of our readers have been asking about this range. 
The brand doesn't have a lighting catalog at the moment. So, I've decided to create a catalog-style post that explores their different light categories and lists their very best options.
Pros And Cons Of Allen + Roth Lights
There's a lot to like about the range offered by Allen and Roth, but no range is perfect.
This guide talks about their whole range of lights and the fact the brand has been around since the 1980s. It mentions two of the biggest "pros" of the brand's project range — their price and durability. The brand offers good quality for the money.
These findings are backed up by Holly Mathis Interiors. Their post shows that some Allen and Roth products can be used as alternatives to other brands, such as Pottery Barn.
On to the "cons". There's only one glaring con in the range, overall. Some people have reported that the actual color of the lights is a little different than what is shown on the box.
This is usually not a huge problem, but it is worth checking out an unboxing video of the specific lights you are buying. 
Videos are a great help when trying to figure out how your chosen light fixture will look in your home. If you check out this video, you will also see what a big difference it makes using soft lighting, compared to other types of bulb:
This installation guide shows the installation of an Allen & Roth track light and you can see the colors of the bulbs:
The Versatility Of The Allen Roth Lighting Range
One of the things that struck me when looking through the Allen Roth range is that they have a versatile range of products. They've got lights for just about every possible scenario.
Some of their lights can be used in conjunction with other products in their range. For instance, the ceiling fan in the video below comes with an inbuilt light. Check it out to see this product in action. Allen and Roth make a lot of products besides lighting!
Their products also feature many different styles. While some of the products in the Allen and Roth range look a bit more modern, a lot of them have an antique style to them. 
We love these pendant lights which look great hanging above a kitchen unit.
Tips On Lighting Your Home
I've also collated some tips for you to consider when you are choosing and installing your Allen Roth lights.
Install Dimmers
Dimmers can be a very important tool when it comes to lighting your home. To install these, you will have to get an electrician to change your on/off light switch to a dimmer. 
This will allow you more nuanced lighting and the ability to change the level of light to suit your needs. This was one of the great tips by BHG.
Think Carefully About Bulbs
Country Living magazine goes into detail about selecting your bulbs. Everyone should go for something energy efficient. However, you should consider other aspects of the light, such as the temperature. Warmer, tungsten lights look more homely, but white light can help with focus.
Make A Statement
According to this post, you can make a statement with your lighting with the height of your lights. Pendant and chandelier lights can be a great way to add a dramatic look and accentuate what's underneath, such as a table.
Outdoor Lighting
Allen Roth also makes great outdoor lighting.
I am talking about solar lights as well as light fixtures that look like regular lamps except… they are charged via sunlight and can be used outside! This is brilliant, as it doesn't use electricity or require an outlet outside.
Often we need to supplement outdoor solar lighting with other types of lights. Allen+Roth landscape lighting includes fixtures such as string lights and lanterns, which can attach to the wall.
Allen And Roth Solar Lights
As this guide shows, these are fantastic path lights. More inventive designs include table lamps and floor lamps. Embracing the sun's power is a great way to reduce the need for wires or electricity use.
Cadenby 27 Inch Bronze Lamp
The Cadenby 27 inch bronze lamp is lit by a solar LED disc on top of the shade.
Alternatively, you can plug it in, if needed. It's perfect for patios and decking, especially on outdoor tables.
Cadenby 56 Inch Bronze Lamp
An alternative option, also in the Cadenby range by Allen and Roth, this is a free-standing floor lamp, meaning you can place it in locations where you don't have a table. 
Allen + Roth LW-1059 Kensett lighting
The Allen + Roth LW-1059 Kensett lighting is another free-standing option. It is made of beveled glass and steel, which means it is weather-resistant and sturdy. This light requires a 100W bulb and can give off lots of light on a porch, for instance.
Solar Post Lamp
This solar post lamp made by the brand is one option that has the weather-resistant features you need to use it outside. A great outdoor lamp, this offers photocell control, meaning it turns on at dusk and then turns off at dawn automatically. 
The frosted glass gives it a classic design. You'd never know it was a solar light.
Looking For Allen+Roth Outdoor Solar Lights?
Outdoor lighting can be very useful for entertaining and spending time on the patio, as this guide to lighting up your yard or porch shows.
Are you looking for solar outdoor lights made by Allen and Roth? Well, the bad new Allen+Roth does not make them… The good news is that I found a great alternative! Read my post about  Allen and Roth Solar Landscape Lights: Is There Alternative to learn more about these beautiful lights!
Allen+Roth String Lights
Did you know that Allen and Roth also make great string lights?
They come in two light bulb shapes: Edison and globe. Edison lights are more suitable for vintage decor while the globe ones would be a perfect addition to a modern design.
These ones have Edison lights:
These string lights can add a twinkle to your yard and create a beautifully subtle glow. These string lights are 13 feet long with 10 different lights along the string. 
If you want, you can even expand this, as there is a plug on the end to let you attach another set of the same lights. They're perfect for hanging above gazebos, along arches, or on fences in your garden. The warm glow can even light up pathways.
The great thing about the lights that they can be used both indoor and outdoor.
In summer, you can use the lights to decorate your patio and in winter, you can bring them home and add to your living room decor. For example, you can use them to light up a room without ceiling lights.
Allen + Roth Crackle String Lights
And these ones have globe shaped lights:
The similarly designed crackle string lights have an almost Christmas-y look to them. They could even be decorations on your tree. The crackle design is decorative and they give off a warm glow. 
You can link up to 10 of these strings to cover longer distances if you need to. The UL Listing for this product means you can safely use these lights in wet locations.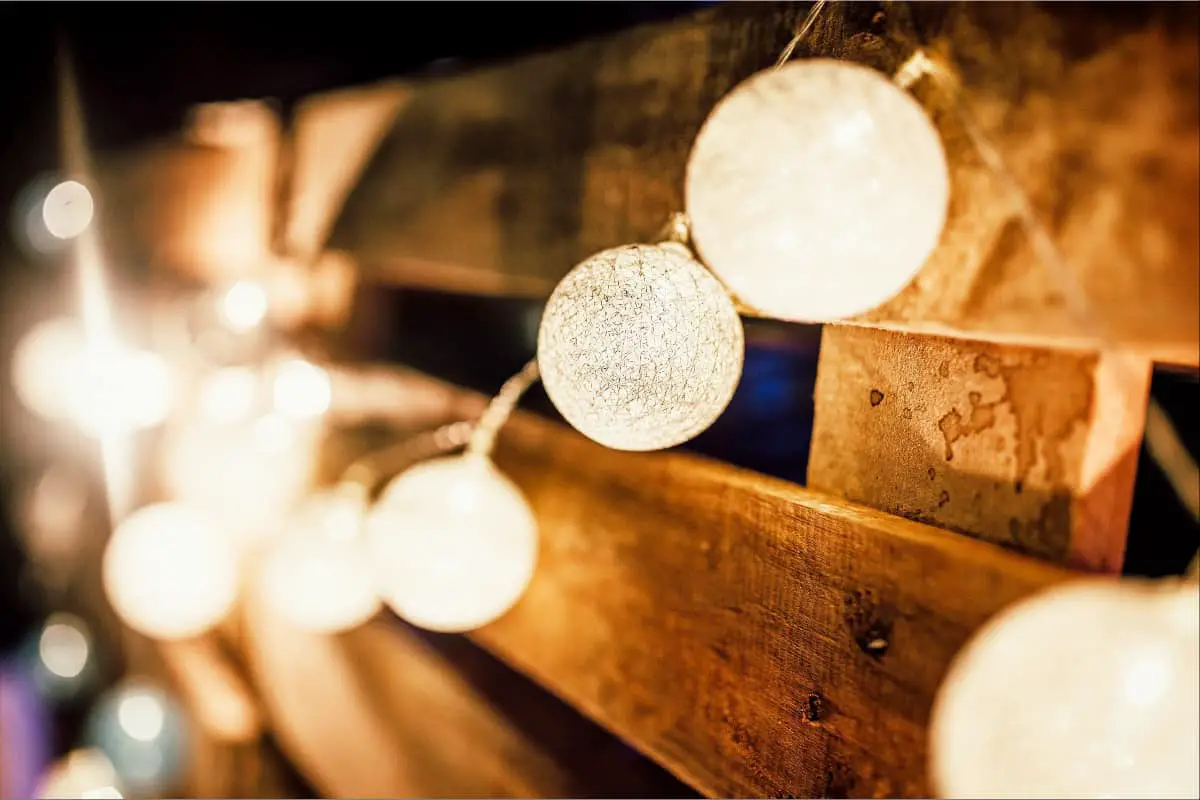 Allen And Roth Castine Outdoor Lighting
No products found.
For those who are looking for an Allen Roth outdoor wall lantern, the Castine light range is most suitable. These lights come with a rubbed bronze finish and mainly use seeded glass, which gives a speckled decorative effect and a classic look.
You can choose the Castine lights which are most suitable for your porch, patio, or other outdoor space and there are multiple dimensions available. 
They come equipped with a motion detector, which provides some security by turning on when there is any movement in the area. This can also be helpful when you get home in the dark.
To achieve a quirky look, you can combine these lanterns with a rope as snown in this image collection post with rope lighting ideas.
Allen and Roth Pendant Light Fixtures
Are you looking for a classy design that can complement your indoor space? Pendant lighting can be the answer. Allen and Roth make many different pendant lights and they are some of the most impressive designs in their lighting range.
From kitchen island lighting to chandeliers, pendants can be a great way to light up a specific area and make for a talking point. These types of lights aren't always the most subtle and they can be a good way to incorporate lighting into interior design.
This blog post goes into detail about the types of pendant lighting in the Allen and Roth range. You can see that some of the models are more modern and contemporary, while others, like the chandelier styles, are much more classic. 
This video shows that they can be the perfect addition to a table or kitchen island.

Want to use Allen+roth pendant light fixtures over your kitchen island? Read a post about how far apart should pendant lights be over an island.
Allen + Roth Bristow Lights
Allen + Roth Bristow is an amazing indoor lighting collection that will instantly give your home an industrial flare. This line has a variety of different fixtures you can match to create a cohesive look throughout the house.
All the light fixtures are made of metal and clear glass to deliver unadulterated light to the room. 
Most of their lights are dimmable, which is great for creating a sultry ambiance. As far as I know, the Bristow pendant light and the flush mount lights are not dimmable. I recommend you check the specifications before purchase. 
The best thing is that all of these lights come with 60-watt bulbs — one less thing you have to purchase. 
Keep in mind that not all fixtures in this collection have the same type of bulb. For instance, this No products found. takes incandescent bulbs, while this track lighting  has integrated LED lights. 
Pros:
Broad collection
Lightbulbs included
Mounting hardware included 
Meets ETL safety standards 
1-year limited warranty 
Cons:
Not all lights are dimmable
Glass parts may be fragile
LED lights don't last that long
Read more: Allen+Roth Bristow collection in details
Allen + Roth Vallymede Lights
Vallymede lighting has a more modern feel. This model has clean lines and clear glass and the simple design looks at home in the bathroom or kitchen. The jar-style pendants look great without taking over the interior design of a room.
All of the Valleymede lights have jar-style shades. You can mount them facing upwards or downwards, depending on your personal preference.
One of the great things about this model is that there are a variety of styles. As well as the pendant Valleymede light, there is a vanity glass-style light, multi-pendant, and flush mount options.
Allen + Roth Vallymede 8-light Brushed Nickel Chandelier
This chandelier design is composed of 8 jar-style Valleymede lights hanging from one central base. Clear glass and brushed nickel make up the design, which is very simplistic and suitable for use in just about any indoor space you can think of.
Each of the 8 shades needs a 60-watt bulb. Make sure you buy top-quality bulbs to avoid a lot of maintenance and upkeep when changing them!
Allen + Roth 3-light Vallymede Aged Bronze Lights
This is a slightly different take on the Valleymede lighting design and, though the jar shade is still a central feature, the aged bronze design gives more of a traditional feel. This would suit an interior with a lot of prominent wooden features, for instance.
This fixture requires three 60-watt medium base bulbs. The three different heads can be adjusted to different heights or hung level — it's up to your personal preference.
Earling Semi-flush Mount Light
Looking for a pendant light that looks like a million bucks but costs way less? You might have just found one!
No products found.
This Earling pendant light is an amazing centerpiece for dining rooms, living rooms, and bedrooms. Its metal frame has a detailed pattern that looks amazing when illuminated. 
This 18-inch wide fixture requires three medium base 60-watt bulbs. When combined, they can be pretty bright. This is where the fabric shade comes in handy. It will protect your eyes from glare. 
The adjustable chain allows you to hang the chandelier as high as 30 inches and up to 60 inches below the ceiling. 
If you are not a fan of chandeliers, I recommend you check out the Earling 15-in w brushed nickel fabric semi-flush mount light that looks just as impressive, if not more. You can also find it on the Lowes website. 
Pros:
Makes for a great centerpiece
Oil-rubbed bronze finish
60-inch maximum hanging height
Fabric shade protects the eyes 
3-year limited warranty 
Cons:
Bulbs not included
Vertical rod may leave the cord exposed 
Instructions could be better 
Allen Roth Floor and Table Lamps
For those who aren't looking for lighting that is wired into a ceiling or wall, Allen and Roth table lamps could be an option. The brand has both table lamps and a range of free-standing floor lamps that plug into an electrical outlet, rather than requiring electrical wiring into your ceiling or wall.
Like the rest of their products, there are some varied and interesting designs when it comes to Allen and Roth lamps. Table lamps and floor lamps can be fitted with LED bulbs and still be a good power-saving option.
To familiarize yourself with various types of floor lamps, I recommend you check out this YouTube video: 
Latchbury Collection
The Allen+Roth Latchbury collection has a unique, contemporary look that could easily be displayed in a museum of art.
This Latcbury 30.5-inch nickel table lamp features three water patterned glass shades on a brushed nickel base. The hammer style glass looks amazing when illuminated with three 60-watt bulbs. 
Its twin Latcbury 30.5-inch bronze table lamp looks just as amazing. It has the same triple-bulb design, only now, it has a rustic bronze finish. 
When illuminated, each glass shade looks like a single lighting bug has been captured in a jar. To make it work, simply plug it in the nearest wall socket. 
You can match both table lamps with the 66.55-inch floor lamp. The design of these fixtures is the same. The only difference is the height. 
 Pros:
Multi-head design looks trendy 
Simple on-off switch
Available in nickel and bronze finish 
Textured glass reduces glare
1-year limited warranty
Cons:
Bulbs not included
Poor packaging
The edges of the glass are rough
Read more: Allen + Roth Latchbury Light Fixtures
Eberline Collection
Freestanding light fixtures from Allen and Roth Eberline collection add sophistication to any home. 
The 60.5-inch floor lamp in rich bronze color best fits the transitional interior design. The metal base holds a drum top adorned in clear jewels that glistens in the light. 
No products found.
Complete the look of your bedroom with an identical table lamp. You won't regret it. 
The 25-inch table lamp looks as luxurious as its big brother. The lamp takes one 60-watt incandescent bulb, which you will have to buy separately. 
The shaded drum directs the light towards the ceiling and floor, so your eyes will be safe from the glare. It is an ideal lamp for your bedside table. 
Pros:
Sophisticated design
Metal construction
Simple on/off switch
Plug-in device 
1-year limited warranty 
Cons:
Bulbs not included
May smell of chemicals 
Color on pictures may be deceiving 
Allen Roth Vanity Lighting
Allen and Roth make a wide variety of vanity lights. If you are searching for Allen+Roth bathroom lighting, these may well be your best option.
Merington, Winsbrell, Brighton, and Kenross are the main Allen and Roth designs suitable for vanity lights in your bathroom or dressing room. Also, the Vallymede design we mentioned above has a range of vanity lighting.
The Merington design has three hand-painted light shades and frosted opal glass shades, which give a soft light to your bathroom.
The Winsbrell model features clear glass but has a bell design. These can be bought in options of up to five lights in a row.
The Kenross design has a very warm look and the brushed nickel design and clear ribbed glass shades have a classic feel.
The Brighton design is a very simple, modern-looking LED strip of lights.
Check out this YouTube video for great tips on how to choose the right track lighting system for your home:
Allen And Roth Eastview Lighting Collection
Do you like classical décor? If that is the case, then you will like the Allen and Roth Eastview lighting collection. 
It offers you a selection of beautiful: 
Pendant lights 
Chandeliers 
Track lighting 
Vanity lights 
Wall sconces 
As well as a floor lamp and ceiling fan.
Eastview chandeliers are available in different sizes. There is a 5-light, 6-light, 7-light, and 9-light option. Consider the size of your room before making a final decision. A chandelier gets that wow factor only when it is proportionate to its surroundings. 
The Eastview chandeliers create ambient light because they direct it upwards toward the ceiling. They are great for creating a soft mood in the bedroom.
Their 35.9-inch kitchen island fixture directs light downwards to create task lighting. The focused light lets you safely chop veggies. 
Keep in mind that most of the fixtures in this collection are discontinued or are hard to find. Only certain Lowes stores across the country still carry the mentioned chandelier and kitchen island light.
It is not a surprise why some of these pieces are no longer available since so many people obviously loved the elegant vine and leaf motif in oil-rubber bronze. 
If you too would like to adorn your home in such a style, I urge you to check out my article on how to match lights from the Eastview collection.
Allen Roth Ceiling Fan Light Kits
This post talks in more detail about ceiling fan light kits. It makes perfect sense for many of us to want lighting in our ceiling fan and Allen+Roth has solutions for this.
One great example is the Stonecroft 52-in Rust LED Ceiling Fan, which features candelabra light bulbs. 
Other options for Allen+Roth lighting fans include the Sun Valley 30-in Brushed Nickel Ceiling Fan and the modern and unusual looking Junction 22-in LED Ceiling Fan. Both are reviewed in detail in the ceiling fan guide.
Allen And Roth Lighting Replacement Parts
A lot of Allen+Roth lights come with warranties. Nothing lasts forever and you may need replacement parts at some point in the future, should your light experience problems.
Allen and Roth chandelier replacement parts can be a little difficult to track down. The number included on much of the packaging and web listings just takes you to a Lowe's support line. The staff there may not be able to help.
I've dedicated this whole post to helping you find the right contact number so you can get support from Allen and Roth. This could be useful if you need to claim on a warranty or just buy a replacement part for your lights.
Allen Roth Lighting is my way to go!
When I do a home renovation with my husband or when someone asks for my advice when it comes to lights my go-to brand is always Allen + Roth.
As you already read above, this line carries any kind of light you might need for your own renovation, from ceiling lights to chandeliers to accent lights and any other type you may need.
Here, I will tell you my personal tips how to find the perfect Allen Roth lighting for your home renovation without breaking the bank.
These steps are simple to follow and will make choosing the lighting for your home improvement delightfully easy and painless, so you get a beautiful home in no time!
Try to Curb Impulsive Buying
I know when I shop for lights it can be hard to resist the temptation of buying everything that catches my eye. However, impulse buying such as this not only costs a lot of money, but I only have room in my home to keep so many lights!
So, the trick here is to shop with intent.
When you are looking for a new Allen and Roth light, don't hesitate to look at all your options, but limit yourself to not buying more than you need.
The light or lights you buy should be the lights that you intend to put in your home during your current renovation. This involves considering what type of design you are aiming for in your home before you actually go and buy the materials you need.
This helps narrow down how much you buy, protecting your budget, and can save you the time and gas money of going to your nearest home improvement store to find new light that does match the décor you decide on.
With careful planning and consideration, finding the right lights the first time without any extras isn't a hard task at all, so don't get discouraged!
To Stress Again: Know What You Are Looking For
While this tip comes up in my previous point, I felt it needed a segment of its own too, since it is important for far more than impulsive buying concerns.
Planning your lights is an important part of planning any renovation and you shouldn't go in blind on any home improvement.
To minimize mistakes and make your home look up to your standards, you'll need to plan ahead on what you are doing and how you want it done, including lights.
This means for each room, you will have to decide what kind of light is best for it, such as a lamp for the bedroom or mounted lights going down a hallway. This can give the rooms the look you want both in lighting and in style, for example, a chandelier in a dining room you want to look elegant and lamps in a bedroom can give low lighting for a warm, calm feeling.
Again, I would suggest Allen + Roth for these interior lights since they not only make quality lights but do so as their specialty.
You should also consider the size of your lights as well. For example, if you have a dining room with a high ceiling, a chandelier hanging from the ceiling will add a nice, elegant touch to the room. However, if you are working in a small bedroom with a slanted ceiling, a chandelier will look less elegant and more oversized while the room would be more cramped.
Don't Forget About Wattage
Another, related issue to how bright a room is has to do with the wattage of the lights you are using. Using wattage, you can determine how light or dark a room will be by detecting how bright or dark a bulb will be.
It should be noted though both placement and wattage have to do with the presence of shadows, so be aware of that in your planning.
It is also important to remember that the numbers I'm about to present for wattage are relative, a smaller room may need less while a larger room may need more wattage to illuminate it.
For a regular, incandescent light bulb, you usually need about 100 watts or, alternatively, you could use two, dimmer, 60-watt bulbs to make up for it. However, there is a different amount for the use of a fluorescent light bulb which is also known as compact fluorescent light (CFL) the wattage should be about 40 watts, as they don't require as much power to be as bright as incandescent light bulbs.
It is crucial though to check the wattage a light can handle before just throwing a bulb in though because if you put a bulb with too high of wattage in a lamp with a low wattage capacity, you'll find yourself buying new lights sooner than you would care to.
Eco-Friendly Lighting Options
Allen+Roth also offers eco-friendly lighting. By buying such light fixtures, you're playing a part in sustaining the environment by using less energy. Additionally, over time, you're saving a lot of money in energy costs.
Why opt for Eco-Friendly Lighting?
You might notice something amazing about eco-friendly lighting. You don't have to change bulbs very often. Fixtures created by Allen+Roth utilize LED bulb. So not having to throw away bulb after bulb means less waste in your local landfill.
Another aspect of eco-friendly lighting is the savings on your electric bill. Each statement shows a gradual decrease. How, you might ask?
The electricity that goes into the bulb burns much more efficiently. No heat emits from the bulb. You only get the light. Thus, with a lovely Allen and Roth Lowe's fixture, you'll eventually notice the difference in your bill.
Did you know that incandescent bulbs only use a small percentage of their energy for actually lighting? The rest of it goes toward the heat that radiates from the bulb itself. When you eliminate this fire hazard, you're also making your home a lot safer to inhabit. So this explains why going green is a good idea.
The Brand Take On Eco Lighting
As you're shopping for light fixtures, determine your purpose. What kind of luminescence do you need? For instance, do you need bright light for doing craft projects? Or are you creating a softly lit relaxing environment in the den?
One option, the Allen and Roth by Lowe's 6-light Brushed Nickel Flexible Track Light, utilizes long-lasting LED bulbs. Of course, a great feature is its adjustability. Basically, it complements both hallways and living spaces alike.
For outdoor lighting, consider the Allen+Roth Clear Plastic LED Outdoor Decorative Lantern. As you can tell, it possesses a simple but elegant design. This is why it accents any garden or patio and adds a festive aura to your outdoor gatherings. Even better, this set includes three button cell batteries. Thus, installation can be quick and easy.
Conclusion – Allen Roth Lighting Is My Way To Go!
So, to sum it all up, to light your home you should plan ahead and try to curb any impulsive spending habits you may have to save yourself time and money.
This includes trying to figure out the look and the feel you want to give a room and think of design around that feeling before just going and buying all your favorites and trying to make them work together. However, planning for home design is more than just planning outlooks, especially with lights.
In doing so, you should consider the size of both the room and the potential light fixture, the type of light fixture you will need, and the wattage of the potential light. For wattage, remember that the guide above is relative and can be adjusted to suit a larger or smaller room.
As far as brands to look for, I will stress again that I, personally, prefer Allen Roth lighting. They specialize in interior lighting especially, so they are perfect for home renovations inside especially.
Last update on 2023-11-20 at 00:54 / Affiliate links / Images from Amazon Product Advertising API