As an Amazon Associate I earn from qualifying purchases.
Mirrors, Mirrors on your walls—Allen Roth has mirrors for all!
Marilyn Monroe once said "I always have a full-length mirror next to the camera when I'm doing publicity stills. That way, I know how I look." Well, I don't look like Marilyn did, but I do have plenty of mirrors around our home.
Is it vanity? Decidedly, no.
While mirrors are handy for doing our hair or choosing attire, they have so many more uses all around our home. Mirrors are also spreaders of light and warmth—two things we want aplenty at home. Allen Roth Mirrors can help with bringing those to every room of your house.
Why Invest In Mirrors As A Decorative Piece For Your Property?
Home environments are essential to people and their everyday life.
People want a stylish home that provides a refreshing atmosphere that matches their lifestyle. That's why homeowners spend time and money for interior decorations. It serves as a form of expression of their tastes, styles, and personality to enhance their living space in a way that would leave their family and friends gaping.
But home decorating is about a lot more than just creating a pretty home.
Decorations improve the house's functionality. When done right, it can help keep rooms clean and organized to accommodate with the way you and your family live, work, and unwind.
A well-decorated room can also have a significant effect on the residents' mood. The décor can be used for getting rid of anxieties and alleviate the stress that results from having clutter.
Even a simple color can generate or enhance a particular emotion. The color blue, for example, can evoke a sense of calm for the people living in the home. Meanwhile, accents of gray can create a sophisticated atmosphere.
Turning your living space into a well-decorated home comes with a price.
A home décor item can be an expensive purchase.
Those who can afford the finer things in life might not have a problem with spending extra. But the average family would rather spend that money for more reasonable expenses like paying down a mortgage, saving up for college tuition, or buying a new car.
Luckily, these days you can save up by decorating your home with Do-it-Yourself (DIY) items or by buying affordable but practical decorating pieces like a mirror. For example, an Allen+Roth mirror.
Bathroom wall mirrors
Naturally, everyone associates mirrors and bathrooms.
We check our hair, do our makeup, shave, brush our teeth, and other various bathroom tasks while gazing at our reflections. They are hands-down, a vital part of a bathroom. When we moved into our house almost five years ago, all the bathrooms had those typical, rectangular wall mirrors.
Super. Boring.
Set your bathroom apart with one of the many Allen + Roth mirrors for bathrooms!
They have a plethora of choices in shapes, including oval, square, round, and—of course—rectangular. Allen Roth mirrors also have come with a variety of sizes, and designs.
There is also a choice in style, meaning one with a beveled edge or a mirror with a trim (which creates the effect of a framed photo, really). Such trims or frames come in the following colors and tones: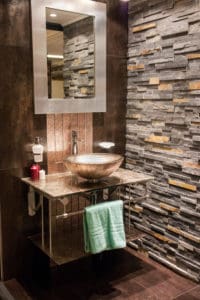 chrome
bronze
aged bronze
nickel
black
white
cream
cherry
There is an Allen and Roth mirror to match any bathroom décor!
For instance, the Allen + Roth Eastcott Auburn Rectangular Frames mirror has a very rich, traditional look with its deep hue and heavy trim. Meanwhile, the Allen + Roth Silver Beveled Rectangle Framed French Mirror has a more contemporary feel.
For fun, choose an oval or circular mirror; these shapes bring more whimsy into your bathroom space, which is precisely why we chose a round mirror for our half bath. Bathroom mirrors don't have to be the tired old standard. They can be fun and reflect your personality! In addition to being beautiful, Allen and Roth mirrors are solid and super easy to hang.
You can't go wrong.
Regular wall mirrors
Beautiful mirrors are no longer just for bathrooms!
Mirrors are have made an entrance into other rooms of the house, including living rooms, dining rooms, bedrooms, and foyers.
When you have a mirror that, itself, looks like a piece of art, how could you not display it in a well-used living space? Allen Roth mirrors come in such a variety of sizes, from small mirrors as fun accents to practically floor-length mirrors which add drama to space.
Do you know what else mirrors can add to your space? Light. Mirrors reflect more than your mug—they are reflectors of light and are a clever and stylish way to brighten any room.
Whatever your décor, there is an Allen + Roth mirror that will complement it:
beveled edge for elegant spaces
country chic for a homey touch
environmentally-friendly reclaimed wood for the eco-minded
grand traditionalism with embellished edges and corners
sleek and modern metallic trimmed
Another great thing about these regular wall mirrors is that you can literally hang them horizontally or vertically to best fit your chosen space.
It's such fantastically frugal way to make your space look extra classy without spending a lot of dough on fancy art. In fact, we chose the very welcoming Allen + Roth Weathered Gray Rectangle for our mudroom entrance, as well as the Beveled Rectangle Framed French Wall Mirror with its sleek, yet warm tiled frame as the focal point for our living room, in lieu of art.
Hint: just check your mirror when you purchase it to see if it comes with all the hardware; some models don't, so you'll need to purchase those separately. Fortunately, Lowe's has plenty of it available.
Vanity mirrors
One of the best mirrors I purchased is the vanity mirror.
You're thinking, but wait—you said you had a bathroom mirror. Yes, but a vanity mirror is an entirely different creature. They help you focus on a specific area, say when you're grooming, doing your makeup, or styling your hair. And the best part is its magnifying side, allowing you to get up-close and personal.
Some vanity mirrors stand on your vanity, while others are mounted wall perpendicular to your main bathroom mirror.
Allen + Roth has a perfect vanity mirror for you, in a myriad of styles, trims, and colors that will coordinate with your bathroom mirror and décor, including the Brinkley Nickel Mirror, the Brinkley Chrome Mirror, and the Brinkley Bronze Mirror.
I chose the Brinkley Bronze because our main bathroom mirror has a deep trim to go with our richly hued cabinetry, and the match is perfect.
Medicine cabinets with a mirror
Sublimely match form and function via a medicine cabinet with a mirror.
These offer storage and an accessible mirror for your grooming tasks. We have one in every bathroom of our house!
There are plenty of Allen + Roth mirrors in this category, in both the wall-hanging and recessed varieties.
The Rectangle Surface Aluminum medicine cabinet is a lovely piece with metal trim around the mirror, offering a picture-frame look, in your choice of brushed nickel, white, or copper. If you want a mirror with a touch of elegance, the Rectangle Recessed Aluminum medicine cabinet has a mirrored door with etched perpendicular lines at the edges.
For those craving an ultra-modern look, the Rectangle Surface Mirrored Aluminum cabinet features a mirror with a light and a digital clock built right into the front of its sleek, futuristic design. You won't need to buy a separate vanity light for it.
These specialized Allen Roth mirrors are an excellent addition to any bathroom.
Allen Roth Mirrors – Did You Find One For Yourself?
Mirrors are about so much more than reflecting who's the fairest one of all!
And though you certainly don't spend all day gazing into one, mirrors can add light and sophistication to any room of your home, from the foyer to the bathroom. No matter your individual design wants and needs, Allen + Roth mirrors have you covered.
Not Convinced? Check This Infographic
The infographic by Accent Art and Frame lists down the reasons why mirrors should be considered as a decorative touch for your home.

Amazon and the Amazon logo are trademarks of Amazon.com, Inc, or its affiliates.