As an Amazon Associate I earn from qualifying purchases.
When it comes to interior decorating, it's amazing how even the smallest details can completely change the vibe of an entire room. Wall plates can do just that, provided you choose an intricate model or pattern that stands out from the crowd.
Allen Roth wall plates are amongst my favorites, not just because of the brand's superior quality, but because they always manage to bring something unique to their product designs, reinventing home decorating as we know it.
Allen + Roth Wall Plates At A Glance
Allen Roth wall plates can be interesting and useful additions to your home decor, but they are also a good option for those looking to decorate a commercial space in style. When I took a look at the brand's Baroque-style options, I could just picture them on the wall of a fancy jewelry store or a luxury hotel room.
Allen + Roth wall plates, as you'll see for yourself soon enough, are both decorative and utilitarian and are some of the best and most stylish wall plate options for homeowners.
Before you buy an Allen Roth wall plate, or any other wall plate, for that matter, consider the following bits of information that will help you steer clear of unsuitable products:
●    Size of the wall plate is important because you need it to cover all the wires and cables, for both aesthetic, as well as safety reasons. Measuring the dimensions of the area that needs to be covered is a good start and should be done prior to ordering a wall plate.
●    Materials are also an important thing to consider when purchasing wall plates. Consider that the material has to be durable enough to withstand the test of time, but also scratch-resistant, to keep it in good shape.
●    Application should be considered when buying wall plates, as well, because factors like the number of gangs, the types of slots/openings, and the positioning of the plates will all determine which product is best suited for your particular needs.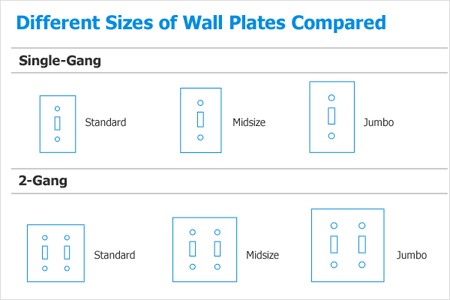 Features & Benefits
Materials
Allen Roth wall plates are made to last. Since they are made from metal, they are more durable compared to those made from plastic. Metal is more resistant to plastic and doesn't wear that easily, over time.
Safety
Plastic wall plates can easily crack over time, particularly if the screws are mounted too tight. If pieces of plastic crack and fall off in time, the internal wiring becomes exposed and this is a problem that almost never occurs with metal plates.
Design
The first thing you'll notice when browsing through the different Allen + Roth wall plates is the diversity in their finishes, with each model more appealing than the last.
As you'll see later in the article, there are also decorated pieces, adorned with patterns and elements that turn a simple wall plate into a home decor statement. To achieve a complete look of your walls, check out the wallpaper by Allen+Roth that complements well the wall plates.
Gangs
Gang is a term used to describe a grouping of sockets or electrical elements that are placed next to one another. Some people are confused and think that gangs are the number of openings in a wall plate, which is not the case.
The number of gangs on a plate will vary, depending on your needs.
However, Allen + Roth wall plates are very versatile in terms of their options, so you're very likely to find a model with the right amount of gangs and the required layout.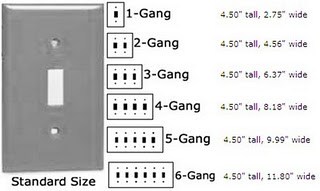 Allen Roth Wall Plates Reviews
Cosgrove Wall Plates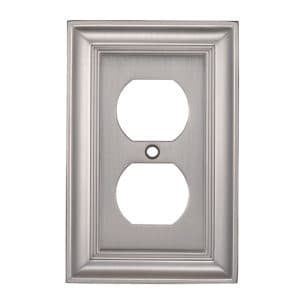 From oil rubbed bronze to satin nickel options, the Cosgrove line of Allen and Roth switch plates has something for everyone. Each of these wall plates has a very simple and elegant design, offering a monochromatic option for those looking to upgrade their cheap white plastic wall plates.
These Allen Roth wall plates are made from metal, providing durability and a classy look.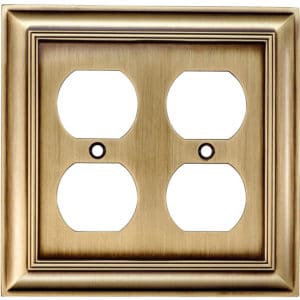 All models feature a refined edge, plus a nice finish that accentuates the beauty of each color option.
The entire line is made from zinc, with included screws that eliminate the hassle of any additional purchases.
The single switch models are even available in a 4 gang option, making the Cosgrove line of wall plates very generous in terms of their different configuration options. They also have everything from coaxial to duplex outlets.
Pros:
●       Easy to install.
●       Different configurations are available.
●       A wide variety of finishes.
●       Made from resistant metal.
Cons:
●       Only includes long screws.
●       Screws are prone to rust, over time.
Fairhope Wall Plates in Antique Pewter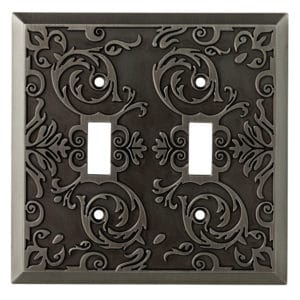 Looking for a single, 2 gang, or 3 gang wall plate?
These Allen + Roth wall plates aim to please. This Baroque-style line of wall plates has a very intricate and stylish design, perfect for everyone looking to give their room a classic touch.
You can opt for the toggle wall plate, but there are also duplex and double options, for those interested in something else. The plates have a smooth silver finish and so are compatible with a lot of different room styles.
Each plate comes in an Heirloom Silver or White Wash option, so you're sure to find a plate that fits your decor needs. The plates include the necessary screws with matching finish, for consistency across the product line.
Pros:
●       Available in a silver or white finish.
●       Multiple switches to choose from.
●       Intricate Baroque design.
●       Matching screws included.
Cons:
●       Single toggle wall plate option not available.
●       Not actual antique brass, only imitation.
Fairhope Wall Plates in Brushed Pewter Alternative
Brushed pewter wall plates are an absolute must-have in homes that are looking to go for that vintage, elegant look.
They have a timeless vibe, yet are imposing and ideal for rooms that want to make a statement, whether at home or in a theater or restaurant.
Because of their powerful and somewhat loaded design elements, they might not work that well in a small room and they may be a bit too much in a tight space. While the fairy-tale design is absolutely eye-catching, they also won't be well suited in a vividly-colored children's room, for example.
While discontinued at Lowe's, these brushed pewter wall plates have an Amazon equivalent. There's an interesting option for those who need a 3 gang wall plate and there are options available with three switches, as well as a single switch and two duplex slots. Those looking for a 4 gang wall plate option are also covered.
Each package includes the necessary ¼-inch screws with oval heads, which match the rest of the design, leaving buyers with a consistent chromatic scheme that blends in perfectly with the decor.
Pros:
●       Beautiful acorn pattern.
●       Perfect for vintage/timeless room decor.
●       Great in large rooms.
●       Brushed pewter finish.
Cons:
●       Not suitable for very small rooms.
●       No simple single switch option available.
Linden Wall Plates Alternative
Due to a design flaw, the Linden wall plates have been discontinued. This was a safety measure that came about due to the possibility of a short circuit, caused by the wall plate dislodging from the back plate.
The plates that featured a smooth and metallic finish were recalled after a few reports of these short circuits, but luckily before any injury reports. Thankfully, there are some viable alternatives on Amazon which are just as good-looking and don't pose any short circuit risks.
Legrand Screwless Wall Plates
If you're looking to eliminate the hassle of using a screwdriver to install your wall plates, here is a viable solution. The modern profile of these wall plates offer a minimalistic response to the more element-rich options on the market. They also make a great alternative to the unavailable Linden plates mentioned above.
These wall plates are suitable for those who prefer to not draw any attention away from other wall decor that should be the true centerpieces of the room.
But there's more to this series of wall plates than just their low profile. Each of the models is made with .065-inch thick polycarbonate, which ensures better resistance to abrasion and impact and makes sure that their color is fadeproof.
The wall plates feature a sub-plate made from a single piece of plastic, which covers the device. There are screws to make sure the device is properly aligned, as well as to determine proper wall positioning.
With colors that range from simple white and black to ivory and even dark bronze, you have six standard chromatic options and three metallic finishes to choose from, including a subtle oil rubbed bronze finish.
Pros:
●       Easy to install.
●       Six color options.
●       No visible screws.
●       Made with solid polycarbonate.
Cons:
●       Colors slightly differ from the picture.
●       Cover doesn't stay in place if the wall plate is bent/dented.
●       Nickel finish has a matte look.
Franklin Brass Wall Plates
These concave wall plates can be statement pieces and another way to personalize your home by adding a feature that not every homeowner has. These options provide a very modern look, with a sleek profile and a smooth finish.
You can choose between single, double, or triple-switch wall plates, so the options are quite versatile. While a viable alternative to the discontinued wall plates we mentioned earlier, this design is actually more of an upgrade: with a smooth satin nickel finish that's easy to match with modern home decor.
The different models and sizes have anywhere between one and six screws, which come included. Just be careful during the installation process, as the wall plates have sharp edges that can easily cut skin.
Pros:
●       Unique concave design.
●       Smooth finish.
●       Available in different sizes.
Cons:
●       Corners and edges are very sharp.
●       Some plates arrived with dents and scratches.
Allen and Roth Wall Plates: Conclusion
You might think that buying wall plates is the least of your worries when decorating your home, but it's amazing to see how choosing the right wall plate can completely change the vibe of your room.
Allen Roth wall plates are some of your best options, mostly because they integrate features that are important in such a product: solid and long-lasting construction, a range of design options, from the simple to the complex, as well as convenient prices, so you don't have to spend a fortune.

Amazon and the Amazon logo are trademarks of Amazon.com, Inc, or its affiliates.
Last update on 2023-09-18 at 11:33 / Affiliate links / Images from Amazon Product Advertising API