As an Amazon Associate I earn from qualifying purchases.
If you're like most people, you're spending more time at home now than ever before. And with more time on your hands, you might be pondering a few home improvement plans to keep busy. 
So, how can you spruce up your bathroom and make it a more cozy, welcoming space? 
Here are 7 ways to do just that
Creative Wall Art
When you're at a craft show and see some fun wall art, you probably don't think to yourself: "That would look great in my bathroom!" But why not? A bit of fun wall art can add a creative splash to that bare, boring wall. 
There are plenty of ways to decorate your wall. 
But the rule of thumb in a small space is to go for art with oversized proportions. This will have a bigger impact and can even dominate the room.
One easy way to do this is to take a favorite photo to a local printer and have them make an oversized print. Make sure they know it's going in your bathroom, so they can produce a laminated, waterproof print. If you have some extra time on your hands, you can actually divide the photo into smaller pieces that you'll later use to build a mosaic on the wall, in style with the classic, tiled bathroom walls!
Replace Your Old Hardware
We don't often think about our bathroom hardware. 
Drawer pulls, towel bars, and flush levers just exist in their own world, thanklessly doing their job, year after year. Then, one day, you realize that that hardware was produced in the 70s, and is decorated with ugly, old-fashioned brass. 
Thankfully, this hardware is cheap and easy to replace. 
Pro tip: take one of your old drawer pulls to the hardware shop when you buy your new ones. This will ensure that your new pull has the same screw spacing.
If you're up for a more involved task, a new faucet or LED shower head is also a nice item to a whole new vibe. If you're going to do this, make sure to pick up some Teflon tape and caulk to complete the project.
Clean Up That Old Tile
Old ceramic tile is generally easy to clean with soap and water. 
The problem is that old grout can capture dirt and gets discolored over time. This can require a deep clean before you grab some grout sealer from your local home improvement store. Applying this sealer once a year will keep your grout clean and fresh for years to come.
For a significant change – and not only a cleanup – you can go with a colored grout sealer. 
Given that you can choose from virtually any color, you can try new palettes in your bathroom and see which one you enjoy the most and is also the coziest!
On top of that, since grout sealer should be applied yearly, you can pretty much change the entire look of your bathroom every single year – especially if you pair grout sealing with the next creative idea!
Add a Fresh Coat of Paint
Painting is one of the easiest, most affordable ways to freshen up a room. 
You can pick up a gallon of paint, brushes, a roller, and painter's tape for under $100, even if you're buying top quality materials. Remove any wall plates, tape around any fixtures, and you're ready to go.
If you want to add a bit of texture to your bathroom walls, try Allen Roth textured wallpaper that you can paint.
As of the paint, for bathrooms, you want a paint that's easy to clean. 
A satin finish provides a smooth, washable surface without the overwhelming shine of a semi-gloss. The nice thing about painting a bathroom is that it's a small space. You can get the whole job done in a single day, and still be able to take a steamy shower the next morning. 
Replace Your Old Towels and Mats
When you think about your bathroom, you probably think of the physical room itself.  The vanity, the hardware, the floors, the walls, and so on. 
But towels, mats, and shower curtains are also a big part of that look. And if you're like most people, your towels and mats are probably out of date. If you're using four mismatched towels with a dollar store shower curtain and a five-year-old mat, maybe it's time for an update.
Throw away your old towels, put them in your linen closet for guests, or donate them. Now, look for a matching set of bathroom accessories that fits your style. Not only will this give you a fresh look, but the feel of a brand new, lush towel on your skin is one of life's most accessible luxuries.
Clear Up That Clutter
Particularly in a small bathroom, clutter can become a significant problem. 
Hairbrushes, toothbrushes, towels, and beauty accessories can end up dominating your entire vanity. On the other hand, upgrading your storage is quick, easy, and painless. For example, you can buy pull-out drawers in standard sizes from almost any home improvement store.
Don't have room for more drawers? No problem. 
You can add some wall-mounted baskets, floating wall shelving (you can even use shelves that come with your closet kit), or a small, standalone storage cabinet to keep your supplies neat and tidy.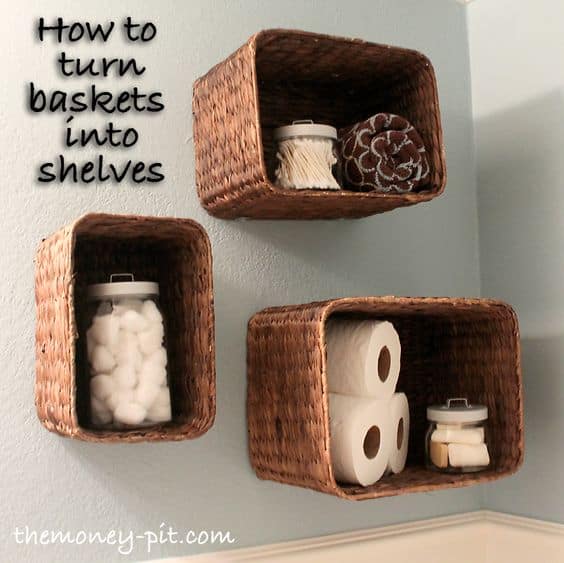 Keep in mind that any fixture that you may add can come in various shapes, colors, and designs. A wall-mounted basket can be a miniature bathtub, or the lights can resemble shower heads or the sun if you want to!
Add a Houseplant or Two
Nothing adds a touch of life to any room quite as well as a houseplant. 
Bringing some natural greenery into your room can make it feel cozy, warm, and alive. When choosing a houseplant, make sure to consider your bathroom's temperature and lighting conditions. You don't have to be an expert. The folks at your local nursery are experts on those things.
Naturally, a well-chosen houseplant will make long baths/showers much more enjoyable, as you'll have a variety of colors to look at in your bathroom. You'll never have to stare at the dull white while brushing your teeth, combing your hair, and whatnot!
Amazon and the Amazon logo are trademarks of Amazon.com, Inc, or its affiliates.