As an Amazon Associate I earn from qualifying purchases.
Want to refresh a look of your living room without breaking a bank? Try Allen Roth wallpaper! It is not only easy to apply, it also has many stylish patterns and colors.
Wallpaper has gained a lot of popularity over the past decade, as it's a stress-free alternative to giving your walls exactly the look you want. People that choose Allen Roth wallpaper can vouch for its high quality and unique style that gives any room a pleasant vibe.
Even so, matching the best wallpaper to your particular decor can be tricky, especially if you've never been through the process before and a lot of questions might come to mind. For example: "What do I need to look for when buying wallpaper? What makes one style better than another? What is pre-pasted wallpaper and why do so many people like Allen and Roth wallpaper?"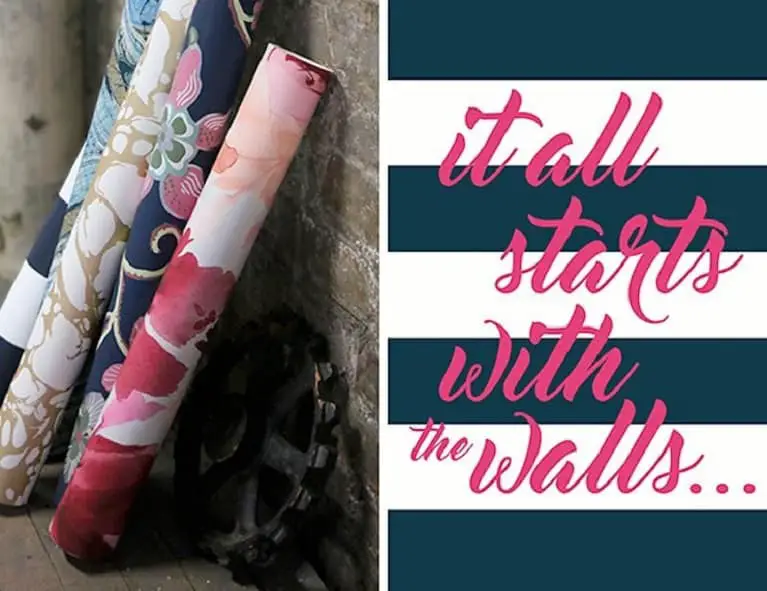 Hold on, we're getting there!
Buying Tips & Considerations
Wallpaper can spruce up the entire feel of a room when used correctly.
It has become a popular decor choice in the past decade, but it isn't a hassle-free purchase. While interior decorating can be a lot of fun, choosing the right items and knowing how to mix them can be a real pain.
Just as with every other decor item, there's a list of considerations to think about before making a purchase. With the help of the following buyer's guide, you will be one step closer to choosing your new Allen Roth wallpaper.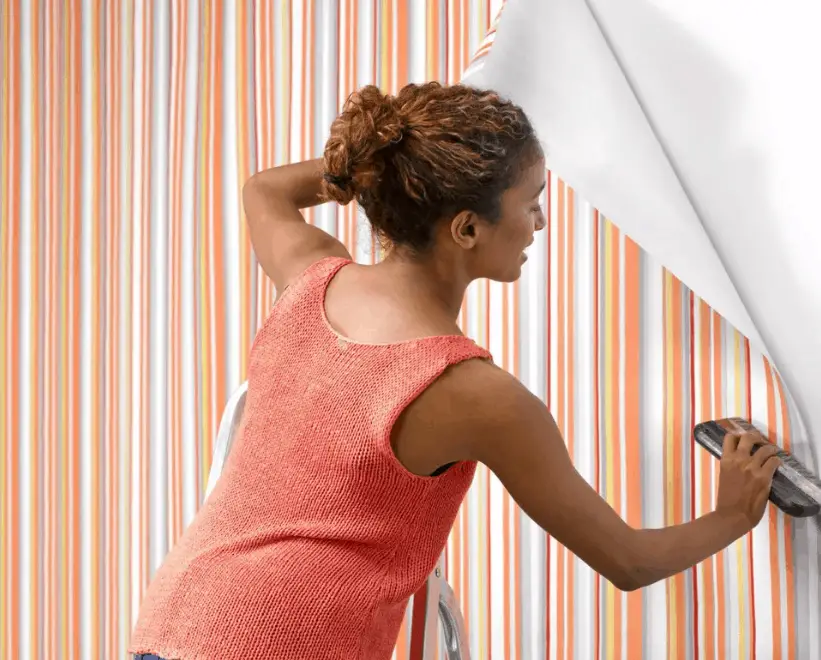 Matching the Room Style
With interior decor, consistency is everything. While nonconformist styles have slowly made their way into a lot of homes, it's still important to consider how different elements mix and match, to create a pleasant atmosphere that will make a homeowner proud.
Prior to buying wallpaper, the first question that needs to be answered is: What is the style of the room you are decorating? For example, romantic rooms are best matched with floral or damask wallpaper. Rooms that aim for a casual style can suit wallpaper with faux finishes.
Beadboards can be matched with floral designs, especially if you're looking to go for that relaxed vibe. Homeowners with a fashionable sixth sense might want to opt for wallpaper with metallic accents and, for a traditional room, stripes or damask patterns are the most obvious choice.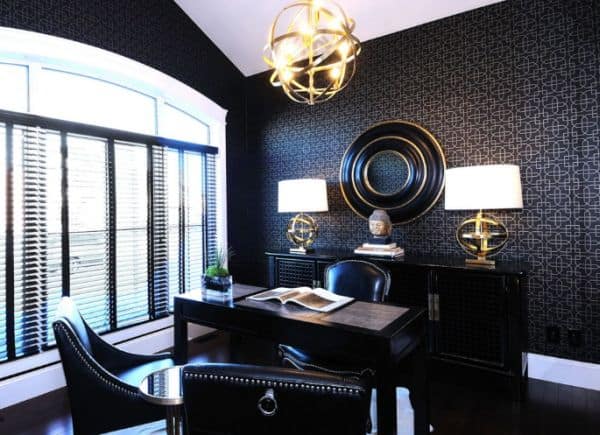 Different Ways to Use Wallpaper
Because interior decorating is such a vast domain, full of creativity, wallpaper can be used in different ways. For example, you can paper just one wall for a dramatic look that emphasizes a specific part of the room.
Alternatively, covering all four walls of a room is a more classic approach, but one that can give a room a more contemporary look. If your home features chair rail moulding, a world of possibilities opens up in terms of what you can do with wallpaper.
You can opt for Allen and Roth beadboard wallpaper for under the rail and go for a large floral-printed option on the top.  Don't be afraid to take a bold approach and use wallpaper on the ceiling, as well.
Textured & Flat Patterns
There aren't precise rules on whether to choose flat or textured patterns for your wallpaper, so it all comes down to personal preference. But, be warned that your choice may change the vibe of the room, so it does matter which one you go for.
Flat wallpaper will give you more freedom in choosing the details of the design. It's also more versatile in terms of effect and is particularly recommended if you want something with metallic accents.

Textured wallpaper, on the other hand, is perfect if you have wall imperfections that you want to cover up. Some models, like Allen Roth paintable wallpaper, give you the freedom of adding the color of your choice to the room. However, keep in mind that textured wallpaper is usually not as intricate as flat wallpaper when it comes to detail.
Wallpaper Quantity
Sad news for the creative spirit inside you: math will always be involved in interior decorating. It's important to know how much wallpaper to purchase in order to avoid running out or having too much left over (although we can suggest some awesome DIY projects that involve leftover wallpaper pieces).

Thankfully, there are just a few steps to determining how much wallpaper you will need for a particular room:
Grab some measuring tape and measure all the walls in the room.

Multiply the height and width to get your total square footage needed.

Make sure that you take into account large openings, including doors and windows, and deduct these measurements from your total.

Whether ordering online or offline, make sure that you read the labels/specifications of the wallpaper you're interested in purchasing. Look for the coverage of your roll in square footage, then calculate how many rolls are needed to cover your wall's total square footage.

To make sure you won't run out of wallpaper, consider purchasing an extra roll. This way, you will also avoid the potential bad situation of not being able to buy the exact same wallpaper needed to finish your project. After you're done, you may be able to return any unopened rolls and get a refund. For offline orders, make sure you keep the receipt.
Allen & Roth Wallpaper Reviews
Allen and Roth is a benchmark brand when it comes to home improvement and interior decor. Their products meet high-quality standards and give homes that unique finesse and refinement that many people hope to achieve in their sanctuary.
The beauty of Allen and Roth wallpaper doesn't just lie in its intricate design, but also in its ease of application. Allen and Roth signature wallpaper is designed for people who are passionate about their redecorating projects and the brand encourages homeowners to tackle projects by themselves. In other words, you don't need to hire a professional to put up your wallpaper.
How does this work, you might ask? Allen and Roth make pre-pasted wallpaper, which comes with adhesive on the back side, eliminating the need to purchase additional paste for wall-mounting.
The easiest way to describe pre-pasted wallpaper is to compare it to postage stamps. Just like stamps, wallpaper requires a minimal amount of water in order for it to stick. All that is needed is to make sure that water is applied to the full length of the strip, so it properly sticks to the wall.
Allen & Roth Paintable Beadboard Wallpaper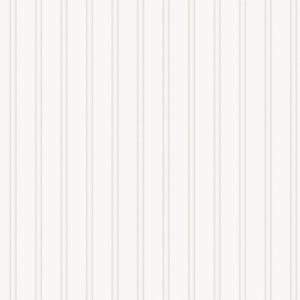 You can find 
If you've ever heard of beadboard, you already know what these decorative wooden panels look like. Beadboard wallpaper looks to achieve that same visual effect in a way that is much more affordable and easier to mount.
So, what makes this Allen and Roth beadboard wallpaper so awesome, you ask? First off, it's not just a poor imitation of real wood beadboard. While it's true that there are flat wallpaper options that can achieve this faux look, why not go for a wallpaper that actually has a raised surface, for maximum effect?
Then, there is the fact that this type of wallpaper is paintable. This is the beauty of purchasing white Allen and Roth paintable wallpaper: you are not limited to a series of colors. Instead, you can push the boundaries of interior decor and enjoy wallpaper in the exact color you want.
Pros:
      Paintable.

      Beadboard streamlined effect.

      Good for walls and ceilings.

      Easy to cut and apply.
Cons:
      Prone to damage (especially if you have pets).

      Discontinued.
It's unfortunate that this wallpaper is discontinued on the Lowe's website. However, you can still 
Allen & Roth White Textured Paintable Wallpaper with Ceiling Tile Pattern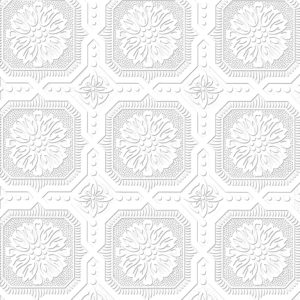 You can find 
If you're ready to take things to the next level and give textured wallpapers a chance, here is one option that definitely puts this kind of wallpaper on the map. Allen Roth paintable wallpaper will always be on trend, but what if you want to opt for an intricate pattern, with many other benefits?
Suitable for both walls and ceilings, this wallpaper features a pattern fit for homes that are looking to obtain that royalty vibe. It's the perfect choice, no matter the room, and a lot of customers have chosen it for their bathroom decorating.
This paintable wallpaper gives you the freedom to express your personality in the color of your choosing, while its texture is great for covering wall imperfections. Since the surface is not flat, scratches are also less visible.
Pros:
      Beautiful textured print.

      Covers wall imperfections.

      Paintable.
Cons:
      May be difficult to put up.

      Discontinued.
This wallpaper is also discontinued by Lowe's. However, you can still 
Allen & Roth Peelable Vinyl Prepasted Paintable Wallpaper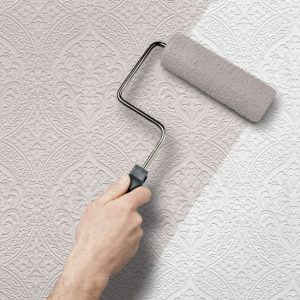 Besides faux beadboard and paintable wallpaper options, Allen & Roth also has pre-pasted wallpaper options. The wonderful world of pre-pasted wallpaper is here to show you that no wallpaper project is too big for you to tackle single-handedly.
Here, you get a quality damask pattern that is rich in detail, which you might be surprised to see in textured wallpaper. You can add a fresh coat of paint once the wallpaper is up and dried, giving you the possibility to color the room to your own personal taste.
All you need is to apply water to the adhesive layer on the back of the wallpaper and place it carefully on the walls. Since it's also peelable, removing the wallpaper whenever you feel like you've had enough of it is also a breeze.
Pros:
      Easy to remove.

      Easy to install.

      No extra adhesive/paste required.

      Intricate damask pattern.
Cons:
Alternatives to Allen & Roth Wallpaper
Sadly, Lowes has discontinued Allen and Roth wallpaper on their official website.
It's quite an odd move, considering that these products have received so much praise by customers, who claim that the wallpaper isn't just stylish, but also easy to install.
Although we've found Allen and Roth products on websites such as eBay, there's always the risk of purchasing a damaged or fake product, so we can't exactly consider this a reliable source. Also, keep in mind that you can't return damaged or fake goods when purchasing from such a website.
As an alternative, we wanted to include a couple of suggestions that may compensate for the fact that Allen and Roth wallpaper can no longer be purchased directly from the source.
Graham & Brown Paintable Beadboard Wallpaper
​
Graham & Brown is another brand that takes pride in the quality of their wallpaper, so it's only fair to consider them a viable alternative to the Allen & Roth brand. In terms of appearance and ease of installation, this option is very similar to the Allen and Roth beadboard wallpaper.
The design features vertical fine lines, to give you a similar visual effect to the Allen and Roth option and it's also pre-pasted, meaning that it has an additional layer of adhesive that only requires water to put up.
It is available in a white shade, perfect for homeowners that are looking to get that streamlined effect. Despite the simplicity of the design, it makes a statement while still being subtle and features contemporary lines that give the room a fresh vibe.
Pros:
      Similar to Allen and Roth beadboard wallpaper.

      Streamlined effect.

      Pre-pasted.

      Easy to install.
Cons:
      Only available in white.

      No information on size.

      Discontinued.
Brewster Anaglypta Paintable Wallpaper with Square Ceiling Tiles
​
Don't let the title of this option fool you: this wallpaper isn't just for ceiling applications. In many ways, this Brewster Anaglypta paintable wallpaper option is pretty similar to Allen Roth paintable wallpaper.
Besides small differences in pattern and design, the important elements are still there, much to the delight of those who have their hearts set on Allen and Roth wallpaper, but didn't get the chance to buy it.
This wallpaper is printed on expanded vinyl, which makes it high quality. However, it doesn't come with adhesive on the back, which means that you will have to purchase the paste separately. Since it's peelable, removing it is very easy: just grab one of the corners and pull it off the wall.
Its Baroque-inspired design makes this wallpaper a great choice for people who are looking to gives their room a regal look. The wallpaper is also paintable, so if you're not a fan of plain white walls, you can add personality by painting it the color of your choice.  
Pros:
      Quality expanded vinyl.

      Easy to remove.

      Scrubbable and peelable.

      Covers up to 57.5 square feet of space.

      Can be painted.
Cons:
      Not pre-pasted.

      Discontinued.
Conclusion
It is no secret that Allen and Roth deliver more than just products: they deliver an experience. It's the experience of showing you that you can stand out in a crowd without spending a fortune to spruce up your home.
With their wallpaper choices and styles, Allen and Roth have clearly proven that this industry still has room for expansion and what an exciting expansion it is!
Amazon and the Amazon logo are trademarks of Amazon.com, Inc, or its affiliates.
Last update on 2023-11-19 at 06:13 / Affiliate links / Images from Amazon Product Advertising API