As an Amazon Associate I earn from qualifying purchases.
Allen and Roth quartz countertops are the newest trend in kitchen decor and for several good reasons.
Every time I gaze at any of the models in the quartz collection, I can't help but feel that they would shine into any kitchen and that Lowe's has really stepped up its countertop game.
With a smooth finish, delicate asymmetrical patterns, and an ease-of-maintenance that every single cook dreams of, the Allen Roth countertops by Lowes are the kind of product you won't believe is real until you use it yourself.
Allen Roth Quartz Collection
Choosing the perfect Allen + Roth kitchen countertop can be quite daunting, especially since there are about 50 different models to choose from.
According to Hello Lovely Studio's guide to purchasing white quartz countertops, you should narrow down your choices to at least five models before making a purchase. But it ultimately comes down to what you want your kitchen to look like.
Man-made material
When made from granite slabs, every piece of kitchen countertop is unique, but the material itself is porous.
It requires sealant to avoid anything from getting into the veins and destroying it. The man-made alternative, or upgrade if you will, is made by grinding pieces of quartz and binding them with resin.
There are few materials out there harder than quartz (diamonds and sapphires, to mention a couple). Therefore, quartz crystals are more than just a good-looking touch, they're also durable and a great investment in the long run.
Because of the smooth surface and sturdy construction, Allen and Roth quartz countertops aren't porous. Which means that they won't retain any food or chemical residue that might lead to the formation of mildew, germs, or bacteria.
Easy to clean
Aside from being a healthy and homeowner-friendly option, these quartz kitchen countertops are also easy to clean. All it takes is a damp cloth and some mild detergent. You should avoid using abrasive and bleach-based products, as this might damage the surface of the countertop.
Taking into account the fact that Allen Roth quartz countertops are made with pure quartz, it's expected to witness variations in color, shades, and patterns. In fact, Allen and Roth quartz listed this as one of its unique traits: color variance. This is an important fact, as customers might be tempted to think that random particle distribution is a manufacturing defect. When it's actually just a trait of this natural material.
Salt Stone Quartz Countertop – Mimicking Natural Stone Perfection
The white background of the Salt Stone countertop is adorned with a playful combination of white and gray, two neutral tones that are easy to match with just about any chromatic combination in a home's kitchen.
The pattern of swirls is random, capable of mimicking the visual effects brought by natural stone to perfection. The quartz minerals and pigmentation and glamour and shine to the smooth surface of the Salt Stone countertop, giving a luxury vibe through the entire kitchen.
Just like the other quartz countertops in the Allen + Roth collection, Salt Stone also brings a high number of benefits to your kitchen, with a surface that's resistant to heat, stains, and scratches.
The smooth surface of the Allen and Roth quartz countertop doesn't favor the formation of germs and bacteria, giving homeowners maintenance options that are as swift and quick as wiping with a clean cloth.
This quartz countertop blends a discreet pattern of easy-to-match colors, with a surface that requires almost no maintenance, since you don't need to polish or condition it.
Pros:
Get that natural stone look

Heat resistant

Stain resistant
Cons
Warranty does not apply if countertops are moved to another application

Not resistant to extreme heat
Crystal Quartz Countertop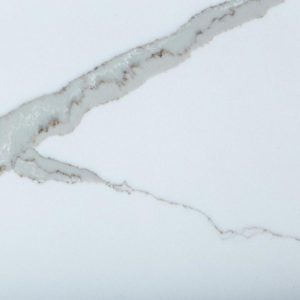 With prominent gray veins that rest upon a pearl surface, the Allen + Roth crystal quartz kitchen countertop is a flagship model.
It contains more than 93% quartz crystals that result in a product 6x harder than granite.
Blending in with different types of kitchen furniture and cabinets, the Crystal quartz countertop is a hassle-free option, due to its effortless surface.
Lowe's provides a 4 x 4-inch sample piece to give you an idea on what the actual slabs look like. However, keep in mind that with the Crystal model, you only get a small portion of the generous gray veins that adorn the surface, so it might not be exactly what you expect.
While The Crystal quartz countertop, much like all the other similar products, has a stain-resistant surface, failing to clean the countertop immediately after a spill can lead to permanent stains on the surface.
Luckily, Lowe's provides a generous list of products that can be used to clean the quartz countertops, such as Rock Doctor Cleaner, Magic Eraser by Mr. Clean, Hopes Surface Cleaner, or Simple Green 10x Stone Polish.
Pros:
A simple look that goes with any decor

Heat resistant

Stain resistant
Cons:
Warranty does not apply if countertops are moved to another application

Not resistant to extreme heat
Frost Quartz Countertop
Part of the Allen Roth quartz collection, I've found the Frost model to be one of the most rewarding ones in terms of visual appeal.
The amazing water-like effects are reminiscent of paintbrush traces left on a wet canvas, making the countertop look like the work of an artist.
The gray veins come in swirling waves of bubbles and spots, enhances by the white background that underlines the beautiful accents of this pattern.
Unlike darker quartz models, which require more maintenance because the natural shapes make dirt, dust, fingerprints and the likes more visible, the Frost model in itself seems like an elegant mess that can easily mask all of the above.
Pros:
Get a unique and artsy look

Heat resistant

Stain resistant
Cons:
Warranty does not apply if countertops are moved to another application

Not resistant to extreme heat
Peaceful Quartz Countertop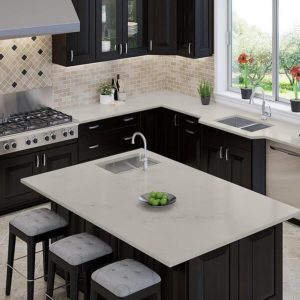 The name in itself is pretty suggestive. The "Peaceful" veins of this kitchen countertop are scattered on the pleasant cream background, blending into any kitchen, whether modern or traditional.
The flawless design combines soft grey veins in irregular patterns, with a lack of symmetry that's almost soothing.
The Peaceful model comes with a pattern that's quite similar to Frost, but with veins that are slightly faded, making the countertop easier to match with different kinds of kitchen decor items and appliances.
While the durability of the product itself is not questionable, caring for it is still important. For instance, always use a cutting board to prevents dulling the surface.
Even if the countertop is heat resistant, it is still in your best interest to use hot pads when working with overheated appliances and items (such as crock-pots or ovens).
Pros:
Get that natural stone look

Benefit from the excellent qualities of quartz

Heat resistant

Stain resistant
Cons:
Warranty does not apply if countertops are moved to another application

Not resistant to extreme heat
Allen and Roth Quartz: Food for Thought
So, why does the Allen + Roth quartz collection of kitchen countertops outshine the competition?
Because it's durable, beautiful, and easy to clean. If you've ever used other types of kitchen countertops, you know the hassle it takes to clean them.
Porous countertops are the worst, especially when crumbs and liquids penetrate the surface, turning cleaning to a time-consuming and absolutely annoying chore. Then, why not turn to one of the best-selling and most solid products on the market?
Amazon and the Amazon logo are trademarks of Amazon.com, Inc, or its affiliates.