As an Amazon Associate I earn from qualifying purchases.
When it comes to flooring, the sheer number of choices and brands can be overwhelming, but with a bit of research, you can find the right style for your home.
I know – you want flooring that will stand the test of time without breaking the bank. You want a floor that is easy to clean, but hard to damage in terms of scratches or nicks. I felt the same way! So, want a hint as to what flooring you need? Allen Roth flooring is, in my opinion, the way to go.
I came to this conclusion because of the large number of positive reviews that have everyone talking. With its many positive reviews, for everything from its installation and wear to its finish, it is no wonder that people are starting to notice Allen and Roth flooring and choose it to fulfill their flooring needs.
When it comes to flooring, I always say it is important to determine what type of flooring you want for your home. Flooring comes in both hardwood and laminate styles. And, while they look similar, they have their key differences.
The Difference Between Hardwood and Laminate Flooring
At first glance, there is no noticeable difference between hardwood and laminate flooring, but when you start looking at how these two products are constructed, the differences are clear.

Hardwood flooring is made with pure wood and is sanded down to be smooth to the touch. It has a lifespan of up to and including 75 years, but can be resurfaced every 20 years or so, to remove dings, scratches, and small dents.
It will scratch and damage easier than laminate flooring, but it does last longer, making it worth the price.
Laminate flooring is made of fiberboard and has a faux-wood pattern on the surface. This gives laminate the look of a hardwood floor, without the cost. While not as durable as hardwood, typical laminate flooring has layers of fiberboard, covered with a clear protective coating that is easier to clean and less susceptible to scratches.
This is especially true with Allen and Roth laminate flooring, which can be installed over any surface – from concrete to wood.
Allen and Roth Laminate Flooring
Allen and Roth Laminate Flooring is the cheaper alternative to hardwood, but just as gorgeous when installed correctly. With a little bit of effort and elbow grease, this flooring can be installed on top of your existing floor.
Sold exclusively by Lowe's, Allen and Roth flooring comes backed with a customer satisfaction guarantee and it is a brand name that can be trusted. This flooring has been gracing homes for years and it is available in numerous colors and/or finishes.
But who makes Allen and Roth flooring? Well, as we mentioned, they're a brand currently owned by Lowe's and they make a wide variety of products, but their flooring is made by Unilin Flooring NC, LLC.
Things to Think About
Laminate flooring can be easier on the wallet then hardwood and easier to install. It is also less likely to scratch or chip during everyday wear and tear. This is what makes laminate flooring an attractive option to those with pets or children running around their home.
When it comes to changing flooring, it is a big task, as there are specific instructions that need to be followed in order to achieve the desired results. Ensure that you have ample help to lay down your new flooring.
Features To Look For In Laminate Flooring
If there is one product that shouldn't be an impulse buy, new laminate flooring is definitely it. New flooring is something that will tie together the décor of your room and last for years to come, so you want to make sure that your choice is the right one for your home.
Some laminate flooring brands can be cheaply made and will not install correctly and some can come already damaged! You will not normally see damaged or poorly constructed products when looking at Allen and Roth laminate flooring reviews, so always make sure you research your brand, before purchasing.
Thickness of the Boards
The general rule of thumb is that the thicker the laminate floorboard, the better constructed it is. If the flooring is too thin, there is a good possibility it won't hold up well in the home and it can even become uneven, once installed.
Amount of Wear and Tear
Consider where you plan to install your laminate flooring because although it is more durable than hardwood, it can still show signs of wear and tear. Good quality laminate flooring will stand up in high traffic areas and be a good option for those with pets and children that run around on the floors on a daily basis.
Darker colors will not show debris or dirt as easily as a light colored floor, but it can show wear and tear faster, as scratches or dents will expose the fiberboard underneath the protective coating.
Warranty Policies
As with any major purchase, you want to protect your investment and ensure that the company you are purchasing from offers a warranty for both replacement and repair. A typical warranty for laminate flooring is 10 to 15 years, with quality control policies in place.
Finishes
Unlike hardwood, laminate flooring comes in a wide array of colors, finishes, and styles. You can purchase thin interlocking boards or those of a wider nature. There are natural wood finishes, brightly colored finishes, and even different types of woodgrain patterns to choose from.
Choose a color and finish that will not clash with your existing color scheme, unless you are planning for a major overhaul in a particular room.
Textures
Along with finishes and colors, laminate flooring also has three different texture options:
     Embossed or Embossed in Register – an allover finish that is the closest to a natural hardwood finish.

     Handscraped – this texture will look like sanded hardwood flooring, with the durability of laminate flooring.

     High Gloss – this laminate flooring features a shiny, glossy finish that resists dents and scratches.
AC Rating
Another thing that is important to consider is the flooring's AC rating. This refers to the Abrasion Criteria and it ranges from A1 to A5, with the lowest recommended for low traffic areas (bedrooms, spare rooms) and the highest recommended for heavy commercial traffic.
Most residential laminate flooring will have an AC rating of A3 or A4 – the recommended rating for areas of higher traffic areas, such as the kitchen or living room.
To see how Allen Roth flooring is installed, check out this YouTube video:
Allen and Roth Laminate Flooring Reviews
Handscraped Weathered Oak Flooring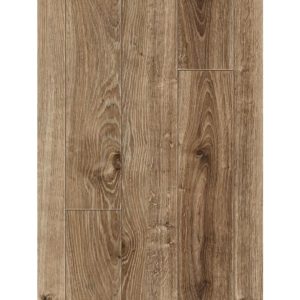 This Allen and Roth laminate flooring mimics the look of handcrafted weathered flooring, but features the durability of laminate.
This is the ideal flooring for higher traffic areas that could use a classic and rustic touch.
Available in both brown and grey shades, this flooring can easily pull together the look of a home. It has a medium gloss finish, to maintain a natural look without coming across as manufactured.
With an easy interlocking system that doesn't require glue or nails, installation is a breeze and could be done by a single person. A second set of hands will make the project go faster, though, as one person can cut the flooring to fit and the other can lock it into place.
Featuring beveled edges and individual plank design, this flooring has the look and feel of rustic elegance without the price tag. This flooring option has an AC3 rating, which is good for heavy residential traffic. This would be a good flooring option for an entranceway or a sunroom.
Pros:
        

Available in brown or grey shades

        

Can be installed on existing plywood or concrete floors

        

Has a 30-year limited warranty

        

Coordinated moulding can be purchased
Cons:
        

Not waterproof

        

Not water resistant

        

Available in a medium plank size only which limits options
Barrel Hickory Handscraped Flooring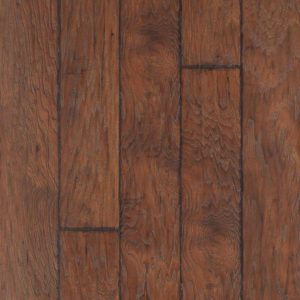 If you want darker flooring that will stand up to high traffic, while offering a natural, rustic look, take a look at this Barrel Hickory Handscraped Flooring.
This Allen and Roth option offers a rich color that will contrast nicely against light or neutral-colored walls, pulling the décor of a room together, instantly.
The boards measure 8mm in thickness, which will prevent sagging or swelling, due to temperature changes.
A thicker board, when used with proper underlay, also provides a level of sound control and, although it is not soundproof, it should reduce the level of sound from walking and it can even muffle the sounds from a living area (TV, music, etc.).
This flooring has a 30-year limited warranty, which insures your purchase and protects your investment. It is to be noted, however, that this flooring requires an underlay, before installing it over your existing floor. Since this flooring isn't waterproof, you might want to look into an underlay that has a moisture barrier.
Pros:
        

Interlocking installation system for easy projects

        

30-year limited warranty

        

Medium thickness provides stability and soundproofing (minimal)

        

AC3 rating equals absorbs heavy traffic, making it good for bedrooms, living rooms, sunrooms.

        

Coordinated moulding can be purchased
Cons:
        

Requires an underlay, which increases expenses

        

Not waterproof or water-resistant

        

Only available in one color – rich brown
Harvest Mill Chestnut Flooring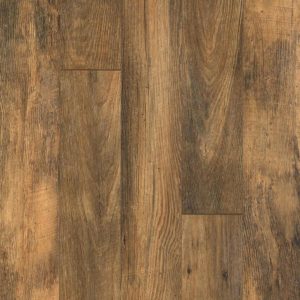 Chestnut is almost a neutral color, allowing it to make itself at home in a room with both dark and light-colored walls and furniture.
This line of Allen and Roth flooring is one of the brand's most versatile and can even be installed on walls, to pull together décor.
The planks have a medium gloss finish and an AC3 rating, making the flooring suitable for all rooms in the home that see heavy traffic from animal and human variety. The 8mm thickness of each plank also provides minimal soundproofing, whether it is on the walls or the floor, and prevents aging from warping or sagging.
Featuring an interlocking installation system that doesn't require nails or glue, an average-sized room can be finished in a day. It doesn't matter if you currently have plywood or concrete flooring, this laminate flooring can be installed on top of it.
It should be noted that this flooring requires an underlay before installation. PERGO Gold is the recommended choice for underlay, because of its thermal and moisture barrier properties.
Pros:
        

Can be used on walls or floors

        

Natural looking finish, with 8mm of thickness for sound control and durability

        

Available in cartons for bulk purchases, ensuring there will be planks left over for repair jobs

        

30-year limited warranty

        

Coordinating moulding can be purchased
Cons:
        

Only available in one shade

        

Requires an underlay for proper installation

        

Is only recommended for residential properties
Chesterfield Hackberry Embossed Flooring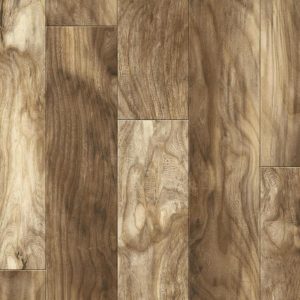 The Chesterfield Hackberry Embossed Flooring is one of the Allen and Roth options that looks the most like natural hardwood and it is available in multiple shades of taupes, grays, or browns – a welcome addition to any room in the home.
Featuring a beveled edge design, this look focuses on individual plank design, rather than a uniform pattern and has an interlocking installation system, for ease and comfort. These planks are also 6.18 inches wide, making them slightly wider than the previously discussed lines, which have a thickness of around 5 inches.
This Allen and Roth laminate flooring doesn't require an underlay, but still has an AC3 rating, making it great for the heavy trafficked areas of your home.
Pros:
        

Available in multiple shades

        

Interlocking installation system for those not familiar with carpentry

        

Beveled edges focus on individual plank design and not a commercially produced look

        

30-year limited warranty
Cons:
        

Not waterproof or water-resistant

        

Not recommended for wall installation
Swiftlock Laminate Flooring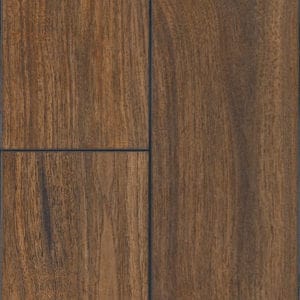 While not exclusively an Allen and Roth feature, Swiftlock Laminate Flooring features all the same durability and ease of installation.
Marketed to those who will be installing their floor by themselves, this type of flooring features an easy interlocking system, with detailed instructions.
Available in three beautiful shades (Walnut-Mocha, Cherry-Leather, and Cherry-Sierra) that echo natural wooden flooring, this product can provide a bit of a price break for those on a budget. It doesn't require an underlay and can be easily installed on both wooden and concrete floors.
This flooring also has a 35-year limited warranty, compared to the 30-year warranties on the above products, so your investment is protected in the case of damage or defects. This line of flooring also has an AC3 rating, preventing scratches and dents from heavy residential traffic.
Pros:
        

Can be installed on concrete or wooden floors

        

AC3 rating for stability and protection

        

Easy interlocking system makes single-handed installation easy for any carpentry level

        

Doesn't require an underlay before installation
Cons:
        

Average thickness with a low gloss level

        

Not waterproof
Flooring Stairs
Gunstock Oak Laminate Flooring Stairs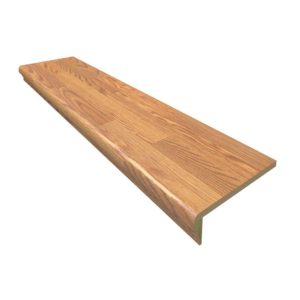 Another brand that isn't produced by Allen and Roth, but definitely comparable in terms of price and quality, Gunstock Oak Laminate Flooring is designed specifically to be installed on stairs.
It matches the Allen and Roth Gunstock Oak laminate flooring and features a unique design that can be installed on stairs of all thickness.
While this laminate flooring for stairs requires glue to complete the installation, it also has a thick 7 mil PVC wear layer, to protect the flooring from wear and tear.
You can purchase parts for both the risers of the stairs and the stairs themselves, to create a uniform look that will add a special something to the home.
Pros:
        

Finishes the look of the overall flooring

        

Can purchase both the riser and the stair

        

30-year limited warranty
Cons:
        

Only matches one color of Allen and Roth laminate flooring

        

Has to be glued down for installation – special glue is required
Estate Stone Laminate Flooring Stairs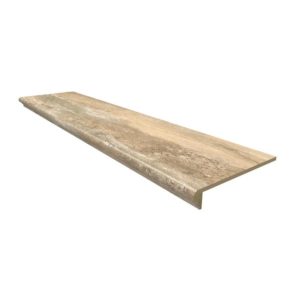 The Estate Stone Laminate Flooring is specially designed for stairs and stairs alone. You can purchase both the riser and the stair portion and these parts match Allen and Roth laminate flooring in Estate Stone.
Remodeling your stairs to match your flooring creates a uniform look that is elegant and classic. Installation is easy with the detailed instructions, but gluing is necessary for both stability and durability.
These parts can be installed on numerous types of stairs, but they will adhere best to wooden stairs.
Pros:
        

30-year limited warranty

        

Finishes the look of a home in hours

        

Can be purchased with the flooring, for an all-inclusive buy
Cons:
        

Needs to be glued for proper installation

        

Only matches one style of Allen and Roth laminate flooring
Allen Roth Flooring: Conclusion
The Allen and Roth line of laminate flooring has numerous colors and finishes to choose from, to suit all your home renovation needs.
With easy installation, longer-than-most warranty, and a price tag that doesn't require a second mortgage, it is no wonder that more contractors are using Allen and Roth laminate flooring in their projects.
Produced and sold by Lowe's, a well-known established chain of home hardware building supply stores, you are guaranteed a top quality product that is easily maintained.
Although some news stories have reported high levels of formaldehyde in laminate flooring, this brand takes steps to ensure that the flooring you are installing is safe for everyone that comes into contact with it.
Amazon and the Amazon logo are trademarks of Amazon.com, Inc, or its affiliates.