As an Amazon Associate I earn from qualifying purchases.
Small Bathroom Updates Make a Big Difference with Allen Roth Cabinets!
My childhood home had a medicine cabinet in every bathroom.
It's where we kept our toothbrushes, toothpaste, floss, medications, bandages, rubbing alcohol, peroxide, and various other medicinal items.
My childhood home also had two linen closets, in which we kept our towels, washcloths, sheets, and blankets. I thought that a bathroom with a medicine cabinet and a house with linen closets was pretty universal.
However, when my Hubby and I bought our home, none of its three bathrooms had so much as a medicine shelf, nevermind a full-blown medicine cabinet or linen closet! Where did the previous owners put their often-accessed bathroom essentials? It's still a puzzle to me.
Thank goodness that we could shop for this bathroom essential at our local home improvement store, where we found an entire line of Allen Roth cabinets for any and all our bathroom needs.
Need medicine cabinets?
It seems like such a basic bathroom requirement, and yet our house had nary a medicine cabinet!
Luckily, the line of Allen and Roth cabinets includes a wide variety of medicine cabinets, both recessed and those that hang on the wall. There is one suitable for you, no matter your style or décor.
Among the recessed medicine cabinets, Allen Roth has several mirrored options. The Rectangle Recessed Aluminum Medicine Cabinet has an etched line design around the edges, which adds an elegant air.
The Rectangle Surface/Recessed Mirrored Aluminum Medicine Cabinet is quite sleek with a beveled edge, and the mirrored surface is on the outside and the inside of the cabinet, so you can look at yourself from all angles!
Another Rectangle Recessed Aluminum Medicine Cabinet has very minimally beveled edges and sports a contemporary feel—good for a modern or masculine bathroom.
Meanwhile, the Rectangle Recessed Mirrored Aluminum Medicine Cabinet has a beveled-edge mirror and a brushed metal frame around the edges.
All of these recessed options include three adjustable glass shelves, which means lots of storage and easy cleaning, since you can simply take out each shelf and clean them when needed. (Easy cleaning is a real plus with our 5-year old!) Any of these would make a lovely addition to a bathroom, while providing extra storage that protrudes minimally from the wall.
Maybe you prefer hanging bathroom wall cabinets.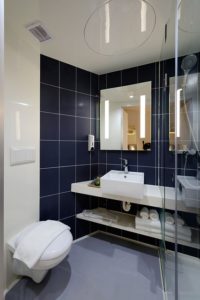 In addition to the recessed options, we saw some medicine cabinets that you would hang right on your wall.
The first of these was the very traditional and homey Allen Roth Rectangle Surface MDF Medicine Cabinet, with its two-door compartment and three small basket compartments for extra storage. It comes in white or espresso and features shelves in the main cabinet and the aforementioned storage baskets—a real plus!Keep in mind, however, that it really only aesthetically fits into a more traditional bathroom design.
Next we saw the mirrored Allen Roth Rectangle Surface Aluminum cabinet. It had more traditional outer trim around the mirror, and comes in brushed nickel, copper, or white. By choosing one of the metal finishes, the trim can inspire a more modern touch.
The final wall-mounted medicine cabinet we saw was the Allen Roth Rectangle Surface Mirrored Aluminum Medicine Cabinet with Lights. This cabinet is ultra-modern. It also has included on the front is a light and clock built right into the mirror! The fact that it has no trim—creating a smooth surface front to the cabinet—also contributes to the modern feel.
In the end, we went with a mix of these Allen Roth cabinets: two of the Surface MDF Medicine cabinet and one of the Rectangle Surface Aluminum cabinet, since one of our bathrooms has a more contemporary feel.
We are happy with them, but note: the Rectangle Surface MDF doesn't have the most explicit mounting instructions, so if you're not accustomed to DIY like my hubby and I are, installation may frazzle you a bit.
Standing bathroom wall cabinets as an alternative.
If you're like my best friend, then you're not at all into the more traditional medicine cabinet; she thinks they look clinical and cold. Good thing for those who agree with her that Allen Roth cabinets has free standing cabinets to meet such décor needs and preferences.
These options won't overpower your bathroom, either, as their size is generally not more than 33 inches high, 13 inches wide, and 20 inches deep—just enough to store your toiletries and other small bathroom essentials in a stylish manner.
These beautiful cabinets come in color choices such as white, off-white, and cream, all of which are soothing to the eyes.
Their overall design contributes to a warm homey feeling, while not dominating the bathroom.
Do note that these Allen Roth cabinets are generally made of MDF or what's commonly referred to as composite material. This means that they are not made from real wood; but, take heart: they look great and are they are sturdy enough to get the job done and last for years of use.
We actually have one of these, which we use for towels and washcloths—we've had it for close to a decade and it's still going strong. Which brings me to other uses for freestanding Allen Roth cabinets…
Standing cabinets make good linen cabinets
Another area of our house that we noticed was lacking when we bought it was a linen closet for the main hall bathroom.
Seriously, what kind of architect chooses not to include this vital storage space?
I've known friends who passed on houses purely for this reason, but we loved most other aspects of the house and therefore chose accept the task of finding an alternative storage solution for our linens.
While we were shopping medicine cabinets, we thought that surely there would be an Allen Roth cabinet that could suffice for our linens, and there was. We bought additional cabinets like the Norbury White Poplar Allen Roth cabinet we already had to put in all our bathrooms for towels and other linens.
As I shared above, these cabinets are not monstrous by any means. In fact, they are quite small in stature. But, the advantage of this is that they fit easily into a bathroom—even a small one. The size is just right for towels, washcloths, and hand towels. And having them easily accessible in the bathroom provides for easy access, like when my Hubby is shaving and needs a towel to clean up! Assembly is fairly easy, even for one who is more of a do-it-yourself novice.
One other thing I like about these free-standing Allen Roth cabinets are the included hardware or pulls: they are made of metal and have a brushed nickel appearance, which I find durable and adequate. Of course, if you want more unique hardware for your cabinet, that is easily remedied.
Mind your cabinet hardware.
Nothing quite distinguishes a cabinet like its hardware.
Sure, it's just a knob or handle that you pull to open the cabinet door, but it also contributes to your cabinets looking Plain-Jane or chic and unique. Many people, including myself, have been known to change out the standard, perfectly operating hardware that comes with a cabinet in favor of something with a little more pizzazz.
If this is you, there is plenty of Allen Roth cabinet hardware out there to have you covered. There are so many choices, even I was astounded as we stood in the hardware aisle at our home improvement store! (Yes, I am one of those who must make a statement with my cabinet hardware—call me crazy.)
I found Allen Roth cabinet hardware in a wide variety of metal tones, including:
aged bronze,
polished chrome,
aged brass,
polished nickel,
satin nickel,
polished pewter,
and iron black.
They have pieces that are knobs and handles (or pulls).
The designs of these include:
plain round, square, or rectangular;
beveled-edges of those same shapes;
embossed floral patterns,
embossed rattan-like patterns,
and designs with an imploded center adjacent to the beveled edge.
All the hardware I shopped was sturdy, easy to install, and comfortable to access with my hands (because who wants a pull that hurts to use!). Ultimately, I chose aged-bronze knob hardware for our master bath and polished nickel round knobs for our other two bathrooms. What can I say…I like knobs.
Allen Roth cabinets are great 🙂
Whether you've purchased a new home like us, you're redecorating your long-time home, or even if you're renting a home or apartment, sometimes a bathroom just needs a facelift. Adding or changing something as simple as your medicine cabinet, adding a linen cabinet, or even the seemingly small change of cabinet hardware can have a noticeable and pleasing impact on your overall bathroom.
The great thing is that these changes are so easy and friendly to your budget that investing in new cabinets and hardware won't break the bank.
In fact, they'll make up the cost many times over with the increased pleasure and pride you'll feel when you or your guests use your updated bathrooms.
So, don't be afraid to make a change or two or more!
Allen Roth cabinets and cabinet hardware offer you a bevy of choices, no matter the style, décor, or colors of your bathrooms.
Amazon and the Amazon logo are trademarks of Amazon.com, Inc, or its affiliates.