As an Amazon Associate I earn from qualifying purchases.
Keeping cool in hot weather has been a struggle for mankind since the dawning of time. Thousands of years ago, our only option was to sit in the cool of a cave or under the shade of a tree.
Later, in hotter parts of the world, you might have a slave fan you with some palm fronds, if you could afford it. In India, this eventually became slightly more automated, with a large piece of fabric or woven palm frond attached to the ceiling and moved with a system of ropes. This was the original ceiling fan. 
In the 1860s, rotary type ceiling fans appeared in the US and the electric ceiling fan came soon after, in 1882.
Since then, the basic fan has not changed much, but ongoing improvements to its design and efficiency have brought the ceiling fan into the 21st century.
Once the ceiling fan went electric, it was only a short step to add lights to it.  This made sense, especially when fitting the fan in the middle of a room sometimes meant removing a light fixture. Adding lights to ceiling fans put the lighting in the center of the ceiling and just made sense. 
Different Types Of Lighting
But what sort of ceiling fan light should you go for? 
There are ceiling fan lights that sit both above and below the fan blades. Those fitted above shine up and those fitted below, obviously, shine down.
Lights that shine up are usually installed to add ambiance to a room and give a warm glow to the ceiling, rather than directed light. Angled correctly, these bulbs can cast enough light which, when reflected off the ceiling and walls, may be enough to illuminate the whole room. 
This style is especially useful when low ceiling height prevents a fan with lights under the blades.
Downward-facing lights are more directed and, whilst they are brighter and more illuminating, they can also be a bit harsh. Therefore, the right light bulb and shade are essential. Allen+Roth ceiling fans usually have the type of lights that shine downward.
Now that you know what sort of lighting you want, you'll need to decide what type of bulb you should go for. There is a huge range of different bulbs out there, from outdated, high-energy incandescent bulbs to the latest super-low energy LED dimmable bulbs. Edison filament and CFL fluorescent bulbs fall somewhere in between.
However, the standard bulb of choice is always the candelabra light bulb or candle bulb.
What Is A Candelabra Bulb?
Shaped to resemble the tapered flame of a candle, a candelabra bulb is more decorative than a standard round bulb and, being smaller, takes up less space. Most designs are rounded at the top, but some are available with a thin, tapered end that leans to one side, resembling a flame moving in a draught. 
Their smaller size means more bulbs can be fitted to one fan, allowing for elaborate and ornate chandelier-type designs and more illumination for the room. Candelabra bulbs used to be the standard incandescent filament type, but now lower energy fluorescent CFL and modern LED bulbs are readily available. 
But low energy doesn't necessarily mean weak light — candelabra bulbs are available with high lumen (brightness) values, meaning they can still provide a lot of light for much less energy.
Candelabra bulbs are stylish enough that they don't need lampshades. This especially true when they are the modern Edison type filament, made to resemble original light bulbs. These have a cool, retro look, especially when used with a dimmer. 
Candelabra bulbs are still very common because they are attractive and stylish, but other bulbs are gaining in popularity, as consumers try different styles to match the decor of their homes.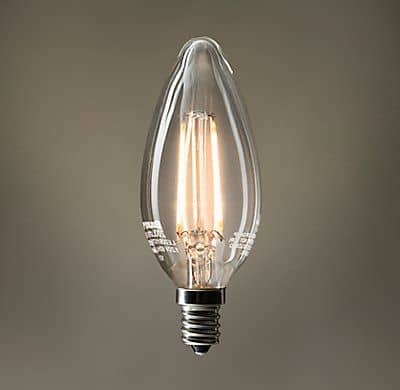 Why Ceiling Fans Have Candelabra Bulbs
Before you get carried away with choosing a new type of ceiling fan light bulb, you have to make sure you get the right bulb base. 
If you already have a ceiling fan, you will need to check its manual or inspect the light fitting to see what base of light bulb you need. Traditionally, ceiling fans were fitted with candelabra base bulbs, but this is no longer always the case. 
Not all ceiling fans by Allen and Roth have this type of bulb either.
Candelabra-sized bases were introduced to the US in the early 2000s to help achieve the Bush government's energy efficiency policies. Ceiling fans used to use the larger medium-sized base for incandescent bulbs, but the fan manufacturers phased these larger fittings out. 
In their place, the smaller-sized candelabra base (also known as E12) was implemented, which allowed for smaller bulbs, achieving greater energy efficiency.
These days, because of the drive for energy efficiency and lower energy bills, there is now a range of bulb bases used in ceiling fans. 
These bulbs can now be larger in size and brighter, but use less energy than ever before. There are now ceiling fan bulbs with larger bases, such as the E14 or E26. These bulbs fit screw-style fittings, but some fans, such as the Sun Valley ceiling fan, require bulbs with a pin base.
Final Words
If you are thinking of installing a ceiling fan in your home, you are probably looking to stay cool in the heat of the summer. Lighting might not be essential for you, but why not have the best of both worlds? 
Candelabra bulbs tick the boxes for most homeowners: they are decorative, energy-efficient, bright, and dimmable. 
I hope that after reading my post you now know why ceiling fans have candelabra bulbs and what exactly this kind of bulbs is. Let me know what you think in the comments and don't forget to share this article if you think it could help someone you know!

Amazon and the Amazon logo are trademarks of Amazon.com, Inc, or its affiliates.