As an Amazon Associate I earn from qualifying purchases.
Looking for a stylish solution for a ceiling fan? Look no more! Allen And Roth ceiling fans are a great solution for a modern comfortable home.
Looking for a ceiling fan for your home but can't decide which one? Well, I'm here to help with some amazing choices from Allen & Roth.
Allen and Roth is a brand that offers a variety of home décor products, ranging from lighting to furniture. If you've heard of this brand, you'll know that they offer stylish, yet affordable products. But, if you haven't, you'll want to keep reading for my take on how you can add to your home's aesthetics by adding a new Allen Roth ceiling fan to your interior decor.
The Difference Between Indoor and Outdoor Fans
Blending aesthetics with top engineering, Allen and Roth ceiling fans give a modern look to your interior. The words "indoor" and "outdoor" are used separately here because Allen and Roth offer a range of fans specifically designed to work in either indoor or outdoor environments.
The main difference between an indoor and an outdoor fan is the materials used in its manufacturing.
Outdoor fans are made with materials able to withstand weather elements, whereas indoor fans aren't equipped to handle things like moisture and high winds. Outdoor fans also require a stronger motor and larger blades to cool open space.
Things to Think About
If you live in a hot climate with mild weather fluctuations, then an outdoor ceiling fan may be a great option for your patio or deck. However, it's not recommended if you live in a location with harsh weather changes that could damage the unit.
Indoor fans are a great choice for those who have the ceiling height and clearance to allow the unit to run properly and would like some help with airflow in their home. However, it's not a great idea if you live in a small home with low ceilings.
Features to Look for in a Ceiling Fan
Indoor fans do not have nearly as many requirements and safety features as their outdoor counterparts, as there is no need to worry about exterior elements, like rain, wind, and snow. Instead, manufacturers focus on the fan's style, aesthetics, and airflow. Many indoor fans also come with included lighting features.
At a minimum, a ceiling fan should hang at least 7 feet from the floor and 18 inches away from the walls. Where the ceiling height allows it, a fan should be 8 to 9 feet above the floor, for optimal cooling performance.
CFM
CFM refers to the amount of air the fan can move per minute, in cubic feet. The higher the CFM of a fan, the cooler the air will feel. For an indoor ceiling fan, the CFM doesn't necessarily alter the room's temperature, but cools the wind chill factor instead.
Blade pitch
This is a reference to the angle of the blade as it cuts through the air. A greater pitch delivers more movement, but also demands a stronger motor.
Blade shape and size
The longer and wider the blade, the more power it requires to turn. That is why there is a limit to the shape and size specifications that fan blades can have. Anything too long or wide won't be as effective, even if it comes with a powerful motor.
RPM
This is the speed at which the blade rotates. Typically, this means that the higher the RPM, the more air the fan will circulate. But this can only happen if the blades are pitched properly.
Height from ceiling
Fans work best when they hang at an optimal distance from the ceiling. For most models, this is between 10 to 12 inches below the ceiling. However, hugger fans that don't come with a downrod, but have a mount instead, are an exception.
These models are designed specifically for ceilings between 7.5 to 8 feet in height and they hang 7 to eight 8 inches from the ceiling.
Lost your fan remote? Yiu can find a replacement here: Allen+Roth fan remote replacement kit.
Stonecroft 52-in Rust LED Ceiling Fan
​
This Allen Roth ceiling fan is a five-blade fan, ideal for outdoor patios or covered porches and it has an ETL listing for wet locations. Each blade on the fan has a rust-colored finish and the fan can be used both indoors and outdoors.
Inside the glass lighting kit, there are three 4-watt LED candelabra lightbulbs, to provide stylish lighting over your patio or porch. This energy efficient ceiling fan uses up to 65 watts of power on high speed. The wattage equivalent of the bulbs is 180 watts.   
The diameter of the Stonecraft fan is 52 inches and it can provide airflow of up to 5,143 CFM, making it the ideal choice for rooms as large as 400 square feet. This fan has three different speed levels to choose from on its included remote, so you can easily adjust it to your needs.
The remote can not only control the speed of the fan, but dim or brighten the lights from any distance in the room. Based on seasonal requirements, you can also change the direction of the fan with the reverse airflow option.
This piece comes with a 4.5-inch downrod, the essential mounting hardware, and all required instructions to mount the fan on either a flat or angled ceiling of up to 18 degrees. This ceiling fan can also be mounted as a flush mount.
The lightbulb base type Candelabra base E-12 and the recommended lightbulb shape is A17. This piece has a one-year limited warranty.
Pros
Remote controlled

Modifiable brightness and speed

Can be installed on both angled and flat ceilings

Reverse airflow option
Cons
Hard to install

Lighting is considerably dim

Cannot be wired to light switches
Castine 52.0-in Rubbed Bronze Ceiling Fan
​
No products found.
Another piece with five blades, the Castine 52.0-in Rubbed Bronze Ceiling Fan has a classic look with its glass covering, unlike the first Stonecroft model, which has an almost nautical feel. The five blades have a walnut/cherry finish and the entire fan has a rubbed bronze look.
The Castine model can be used both indoors and outdoors since it is ETL listed for damp locations. This lantern-style light casing with seeded glass shade can be brought up and down in brightness to suit your needs.
The Castine fan comes with three different settings for speed that can be controlled with the included remote control. This remote control is capable of handling both the speed and brightness of the fan from any given location in the room.
This fan works best in rooms 400 square feet and under since its 52-inch diameter can produce airflow of up to 5,135 CFM. To move both cool and warm air, you can use the reverse airflow function on this fan. This additional feature makes this fan superb for annual use.
The 4.5-inch downrod can be installed on sloped ceilings and can be mounted as a close mount.
The Castine ceiling fan uses three LED lightbulbs with a maximum consumption of 5 watts. The wattage equivalency is 120 watts. The fan itself uses 60 watts of power on high speed.
The lightbulb base type is Candelabra base E-12 and the recommended size of bulb for this fan is B10. This model has a limited lifetime warranty on motor and parts on one year.
Pros
Remote controlled

Adjustable brightness and speed

Energy efficient

Classical antique appearance
Cons
Light fixture sometimes wobbles with the moving blades

Bulbs are dim

Cannot be connected to a switch
Valdosta 20-in Oil Rubbed Bronze Ceiling Fan
​
No products found.
The Valdosta 20-in Oil Rubbed Bronze Ceiling Fan by Allen+Roth does not aim to be the main attraction of your room. It has a simple, industrial look and is designed to be functional and a great choice if you're on a tight budget.
This model has an oil-rubbed bronze finish with three cinnamon-colored blades inside a wire cage. It is safe to use indoors, as well as outdoors, as it is ETL listed for wet locations, making it perfect for patios or covered porches.
Rather than using this fan in a large room, this model works better in small, enclosed spaces of 100 square feet or less, with a CFM of up to 3,030. The fan measures 20-inches and has a blade pitch of 24 degrees.
Despite its simplicity, the Valdosta model still has the luxury of three different speed settings, for your comfort during different times of the year. However, there is no included remote, so the settings must be adjusted manually and must be connected to a switch. There is also no built-in lighting with this model.
This fan can be installed with a 4-inch downrod, or it can be mounted at an angle of up to 30 degrees. However, the mounting bracket for this position is sold separately. This is a very practical fan for commercial or residential use.
Rather than a mere 1-year limited warranty, the Valdosta fan is covered with a lifetime motor warranty and a 2-year limited warranty for all of the parts. You can feel comfortable with this purchase knowing you are covered for as long as you have this fan.
This ceiling fan uses up to 85 watts of power on its highest speed.
Pros
Efficient for practical/commercial/residential use

Angled mounting option of up to 30 degrees

Limited lifetime warranty on motor, coupled with a 2-year parts warranty

Three different speed settings
Cons
Not as stylish as some of the other models

No lights or remote control

Controls are located on the fan
Sun Valley 30-in Brushed Nickel Ceiling Fan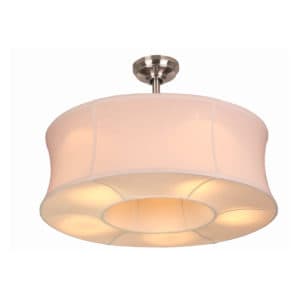 Unlike our previous model, aesthetics are at the forefront of the Sun Valley 30-in Brushed Nickel Ceiling Fan. This unique design hides the blades inside a circular cover.
There are three fan blades with this model, with a brushed nickel finish.
Since this is a cage-style fan, there will be an audible, but quiet hum in the room it's placed in. This fan can only work indoors and is not advised for outdoor usage.
The drum shade light kit is made of natural linen. This fan comes with a remote control to adjust the lights, as well as the speed of the fan. This model has three different speeds and a reversible AC motor.
This fan is only mountable with a downrod of 4.5 inches and a possible slant of up to 30 degrees. The total diameter of the fan is 30 inches.
The Sun Valley fan also comes with a limited lifetime warranty, coupled with a 2-year limited warranty on other parts.
There are five required lightbulbs to operate this fan, each of them fitting in a GU10 pin base. The bulb type is Halogen, and the lightbulb shape recommended for this fan model is single.
The wattage used up by the bulbs is 25 watts. The total wattage use for this ceiling fan at high speed is 30 watts. This fan is recommended for small rooms, 100 square feet and under.
Pros
High aesthetic appeal

Remote controlled

Reversible AC motor with three speeds  

Limited lifetime motor warranty with a 2-year warranty on parts

Energy efficient
Cons
Slight hum can be irritating

Hard to find replacement lightbulbs

Difficult installation
Auri 22.25-in LED Ceiling Fan
The Auri 22.25-in LED Ceiling Fan comes in four magnificent colors, including Aged Bronze, Aged Brass, Brushed Nickel, and Rose Gold, so you can find the color that best suits your room and its existing decor.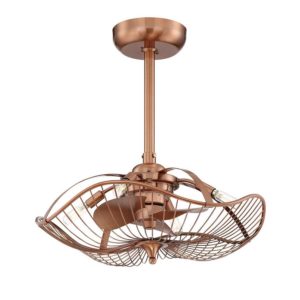 This piece has an intriguing bent metal, curved design and includes lights, to create a vibrant, stunning appearance in the room. This fan has three blades and a 6-inch downrod.
A remote control is included to navigate the three speed settings and dim the lights.
This fan can be mounted on an angle of up to 15 degrees and the blade direction can be reversed via a manual switch.
The fan's diameter is 22.25 inches, making it one of the smallest options on our list. However, although small, it is quite effective, and it can circulate air in a room up to 400 square feet with airflow of up to 869 CFM.
The Auri model uses four LED bulbs, specifically Candelabra E-12 style and B10 shape. The maximum bulb wattage is 60 and the equivalent wattage is 40 watts.
The remote can either be handheld or mounted on the wall and this fan is only to be used indoors. The Auri ceiling fan comes with a limited one-year warranty.
Pros 
Unique style

Comes in multiple colors

Remote and switch controlled
Cons
Fan can be too small for large room

Can be loud

Hard to install
Junction 22-in LED Ceiling Fan
The final ceiling fan on our list, the Junction model from Allen & Roth has a stylish wood base and an industrial-style cage, for a modern look. This piece comes in two different color choices: either Charred Iron or Galvanized.
This fan has three different speeds to choose from and can be controlled by the included remote.
You can reverse the blade's direction with a manual switch on the housing for seasonal changes throughout the year. The remote control can also dim the light inside of the ceiling fan.
There are four LED bulbs inside the Junction model and replacements should have a medium base, E-26 style, and ST58 shape. They have an equivalent wattage of 60 and each bulb uses 8 watts.  
This model does not have a downrod and is mounted with a flush mount. The fan diameter is 22 inches and it creates airflow of up to 1,471 CFM on its highest speed, making it capable of regulating air in rooms up to 400 square feet and perfect for living rooms, bedrooms, and lounges.
This fan is only for indoors and can be controlled with either a switch or the included remote control.
Pros 
Remote control or switch

Appealing design

Reverse blade option for seasonal changes
Cons
No downrod

Confusing installation

Not as energy efficient as some other models
Allen and Roth ceiling fans: Conclusion
The Allen + Roth line impresses with its variety of ceiling fans and they offer stylish products without breaking the bank. You get a sufficient choice of styles to choose from to suit the indoor or outdoor spaces of your home.
With some help from Allen & Roth, you can find a sensible solution to your home needs that fits in nicely with your room configuration, size, and budget.
Amazon and the Amazon logo are trademarks of Amazon.com, Inc, or its affiliates.
Last update on 2023-11-20 at 01:11 / Affiliate links / Images from Amazon Product Advertising API