As an Amazon Associate I earn from qualifying purchases.
Are you looking to add statement pendant lighting to your kitchen, but aren't sure how far apart should pendant lights be over an island? It is easy to be confused about spacings as well as distances from the island.
I love kitchen statement pieces, especially the ones by Allen+Roth. Some of the amazing designs we see in pendant lights add a real element of class to virtually any kitchen with islands, as well as having a functional use too. Get it wrong, and your sleek design can quickly start to look unprofessional and unimpressive.
Number of Pendant Lights
This may be something you have decided already, but will, of course, play a big part in the spacing of your lights. If you haven't made this decision yet, it should be the top priority.
There is no set in stone 'rules' on the matter, but commonly, 5-foot islands will have two pendant lights whereas 7 or 8-foot islands will have three pendant lights.
The lights are suspended 30-36 inches above the countertop as recommended by E Interiors. 5, 7 and 8 feet are common sizes for kitchen Islands, which is why they are focused on in this article, but the same information will apply whatever size Island you have.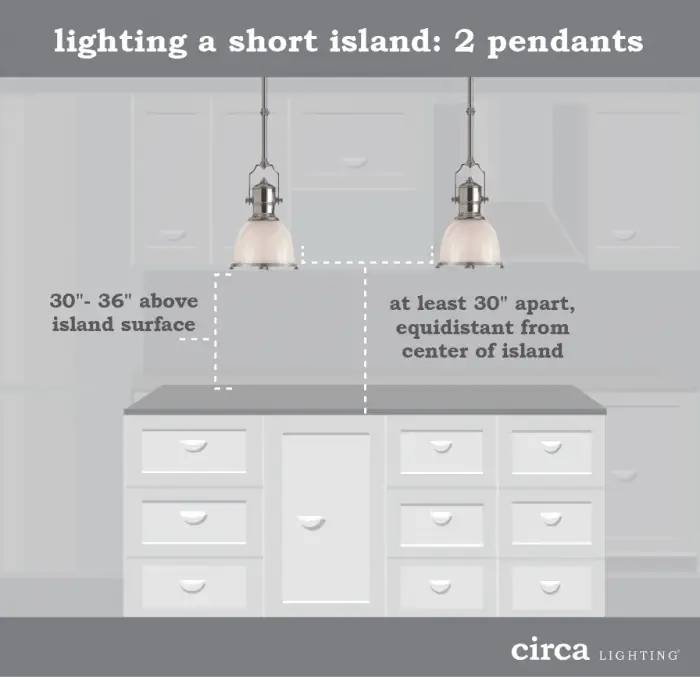 Aesthetics are sure to be considered, and you will likely want to know what will look best. However, an even spread of light is equally important when spacing pendant lights over the kitchen island. You don't want the middle of your table to end up in darkness when you have friends round to show off your beautiful kitchen!
Size of Pendant Lights
The size of the lights will also play a part in any decision you are making and must be considered. When making measurements, you will be doing so from the center of the light, which is the easiest way to calculate your distance between fixtures.
For example, this is how to do measurements with a mini pendant from the Eastview collection by Allen Roth:

How large the lights you have will dictate how many you opt for and the spread needed for even coverage.
Distances for a 5-Foot Island
A 5-foot island may be the simplest of all to work out your distances.
Most commonly you will only require two lights for this size of the island. The easiest way to do this is simply half the length of the table, this will mean 30" for each light to cover. In the middle of these 30" sections is where your light should go. This means 15" from each edge, with a total of a 30" gap between the two lights.
If you are opting for three lights with a 5-foot island, the same applies, but simply with three 20 inch sections. A light directly in the middle of each of these imaginary 'sections' would mean two are ten inches from the end of the table, and the third sits directly in the middle.
Lights are kept away from the very edges as they can be a risk for people hitting their heads. Plus your Island won't look as good when your pendant light is only half directed at the table.
Distances for a 7 or 8-Foot Island
The exact same method used to work out the measurements for a five-foot island can be used for 7 and 8-foot islands too. The only difference between the sizes is that you are much more likely to opt for three lights in this scenario.
Let's imagine an 8 foot Island, and that you have opted for three lights. 8 Feet is 96 inches. Each light will need to cover 32", which means that two of your lights will be 16" from either edge, with your third light exactly in the middle (at the 48" mark). These measurements are all taken from the center of the pendant light.
For a 7 foot Island, each of these three imaginary "sections" will be 28" big, meaning the lights will start 14" from either end.
Simplifying the Measurements Or Avoiding Them All Together
I know, nobody is reading this for a maths lesson, and things need to be kept as simple as possible for everyone's sanity!
It helps to think of it in the most simplified way possible:
Draw a rectangle (this represents your island)

Divide the rectangle into either two or three sections (this represents the number of lights you have chosen to install).

Draw a point in the center of each of these sections.

This is the point at which the

center of your light

needs to align. This should be relatively simple when it comes to installation as the light bulb itself will normally be centrally positioned.
To see this in action, the following video from eHow explains how this process is used for measuring equal distances for fixtures.
[youtube https://www.youtube.com/watch?v=AUoqeI9ECxQ&w=1366&h=615]
But can you avoid doing measurements all together?
Yes, you can!
If you do not want to bother calculating the distances, opt of island lights that come with multiple lights built-in. For example, Bristow by Allen Roth is exactly like this:
No products found.
The Bristow light fixture also comes with 4 lights for 7 or 8-foot kitchen islands:
In the case of such lights, you can just hang the fixture in the middle of the island and be done with it.
Are There Exceptions?
Pendant lights aren't all made the same, and some point in different directions or offer slightly different designs. There are always exceptions, and if you have opted for one of the more unusual designs this may be something you need to consider.
If you want your design to be more quirky or aesthetically interesting, you might look at putting them closer together or even hanging at different heights.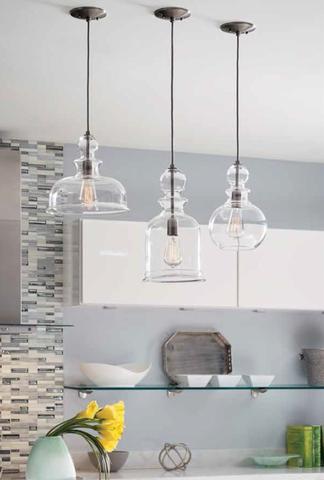 Allen+Roth Hainsbrook pendants is a good example of kitchen fixtures that are hung close and on different heights:
Generally, even spacing between lights is exactly what is required, and the method we've discussed is the simplest way to ensure you have this equal light coverage.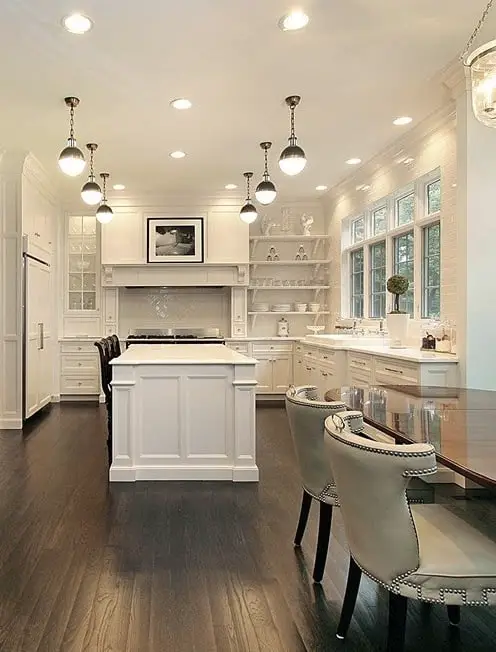 Measuring Accurately
You should always be sure to make accurate measurements in order to make sure your lights don't end up in the wrong place. A tape measure may well suffice, but another option to work out exact distances is a laser measure.
Laser measures are accurate from distance, and quickly and easily allow you to check your distances from all the angles around your island, ensuring you've placed them exactly in line and in the correct place. These are often used to measure larger distances, so ensure you have an accurate laser measure if you go down this route.
Conclusion
As you can see, the key to working out how far apart should pendant lights be over an island is usually ensuring an equal distance between lights.
The process involves:
Deciding how many lights you require based on the size of your island.

Working out the equal distances between your lights using our handy guide.

Measuring and marking the distances accurately with a tape measure and/or laser measure 

.

Checking that the light coverage is sufficient before installing the lights.
This ensures no area of your island is left in darkness and is normally the best way to space pendant lights in terms for looks too.
That said, as well as your tape measure you should always be using your eye, pay attention to what looks good and you may even want to draw up a couple of options before deciding exactly how far apart to place your pendant lights over the island.
You can also minimize the amount of measuring efforts by choosing a light fixture that comes with multiple lights, for example, the 4-light Bristow lights   by Allen and Roth.
Amazon and the Amazon logo are trademarks of Amazon.com, Inc, or its affiliates.
Last update on 2023-11-18 at 11:10 / Affiliate links / Images from Amazon Product Advertising API