As an Amazon Associate I earn from qualifying purchases.
For many people, the end of summer marks the end of fun casual outdoor activities such as barbecue parties and family get-togethers.
The arrival of winter often means a frozen-over patio that is deemed out of use until summer comes round again. Yet, this doesn't have to be the case. With just a few clever renovation tricks, you will be free to enjoy your backyard or patio all year round.
Before you reach for your phone to call your contractor, I recommend reading this article to get a rough idea of what your backyard needs in order to remain usable even during harsh weather conditions. I will also give you tips on what Allen+Roth products can help you to achieve that.
After all, turning your backyard into a small paradise requires intensive research to get it just right.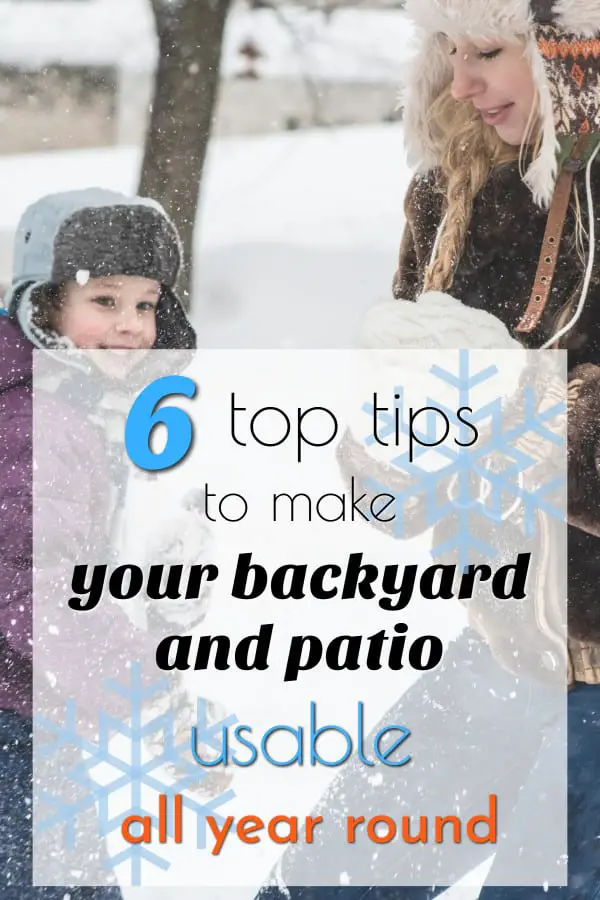 Check out these simple tips on how to make your backyard and patio usable all year round:
# 1. Retractable Screens
Screening is a sensible and affordable solution to protecting your outdoor space from adverse weather conditions. Aside from this, another major perk of screening is you will be able to keep out those pesky little bugs that tend to ruin a good summer evening.
If you decide to add a retractable screen to your porch, consider extending your heating and cooling ductwork to the patio as well. This way, you will be able to keep the cool air in during the summer as well as the warm air in during the winter.
Often, mesh screens come with an added bonus of UV protection for your patio furniture. The screen will protect your furniture from sun damage and prevent them from fading.
It also goes without saying that retractable screens have the added advantage of manipulation. You will be able to extend and retract your screen to match the weather or your mood.
if you are looking for a similar product from Allen and Roth, I can tell you they only have privacy screens. The screens can be used to protect against mild drafts but they don't seem to be able to serve as a real wind-stopper in winter.
#2. Weatherproof furniture
While this may seem a bit obvious, it is still a crucial factor when it comes to maintaining a year-round usable patio or backyard space.
There are several factors to keep in mind before buying patio furniture. For example, wicker furniture may be great for warm summer evenings but won't retain heat during the winter due to the perforated backs.
Likewise, a couch that could comfortably seat three people during the summer, may only fit one person bundled in blankets during the winter.
Another essential factor to keep in mind is the material of your patio furniture. Furniture built from weather-resistant materials such as reclaimed teak, powder-coated steel, and poly-resin wicker is the way to go.
You can also maintain the functionality of your furniture by covering up your furniture during adverse weather conditions or when they are not in use. By simply doing so, you can significantly extend the 'life' of your patio furniture.
If you are looking for covers for your Allen+Roth patio set or outdoor furniture, check them here.
#3. Lighting
A little lighting goes a long way in setting the mood for your backyard paradise. You can easily extend your outdoor time by using the correct lighting.
Fortunately, there is a large variety of lighting fixtures to choose from. For example, you can choose between LED or solar lighting.
Allen Roth used to offer great solar landscape lights; however, they are not available anymore. Yet, we found alternative solar path lights that have the same classic design and awesome quality.
Other options to consider are path markers, spotlights or cozy string lights. It all depends on the mood you would like to set for your backyard.
Allen+Roth offers string lights that can be used both indoor and outdoor. I find them to be pretty versatile and worth the buck.
On the other hand, although many people prefer to use floodlights, I often advise against it. While floodlights may provide sufficient lighting, they are often a bit restrictive when it comes to creativity. Also, floodlights tend to compete with other backyard fixtures such as fire pits or outdoor fireplaces.
Aside from setting the mood, lighting goes a long way when it comes to pest control. Ample lighting will keep pests at bay and ensure that you can enjoy your backyard without any intrusions.
#4. Patio roofs or enclosures
Having a patio roof will ensure that you can extend your outdoor time even when temperatures begin to fall. The major advantage of adding a roof to your patio is that it keeps the chill away and protects you from adverse weather conditions such as heavy rain and snow or even the extreme summer heat.
In addition to this, a roof will give your patio some privacy. Also, it is significantly easier to decorate a roofed patio. You can hang your light fixtures from the roof and make your space a bit cozier.
There are numerous roofing options to choose from. If you wish to try something a bit more temporary, you can use garden parasols in your backyard. Garden parasols add a unique aesthetic that will make your backyard a relaxation haven.
Parasols come in varying designs that will allow you to design the layout of your backyard to meet your unique taste.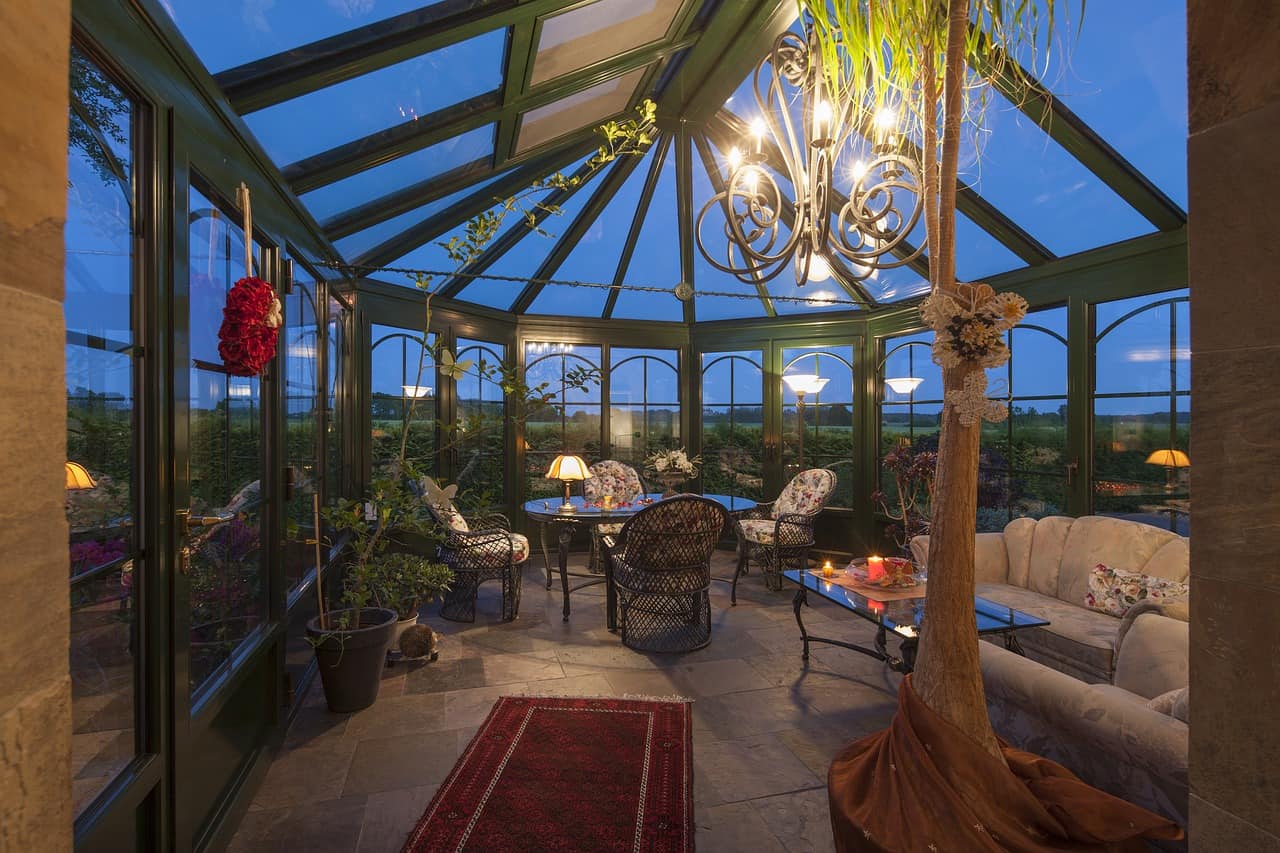 #5. Heating
The main reason your patio is rendered useless during those chilly winter evenings is lack of appropriate heating. After all, it is hard to lounge and relax when you are shivering from the winter's chill.
However, you should consider the following options when it comes to adding heat to your patio. For example, you can choose to use an outdoor heater such as halogen heaters or heat lamps to keep the chills at bay.
Likewise, you can opt to construct a fire pit where you and your family can gather around to warm yourselves on chilly evenings.  Aside from warming yourselves, you will discover that a fire pit is a nice place to gather around and enjoy a warm beverage.
It is always advisable to put a source of heat next to the seating area. If your patio is designed as an extension, you can simply use the house's heating system for the patio as well.
#6. Privacy fencing
The final touch to turning your backyard into a private paradise is adding a fence.
A fence will provide protection from wind especially if your patio is located right next to it. It will also add privacy and security to your backyard. In addition, a fence will tie the whole backyard together and make it look complete and compact.
Conclusion
So, there you have it – six simple tips to ensure that your backyard remains usable all year round. Of course, each backyard is unique and requires tailor-made renovations to make it usable. Always consult your contractor before starting on any renovation project.
If you have already succeeded in making your backyard a year-round paradise, feel free to share some of your tips with us!
Amazon and the Amazon logo are trademarks of Amazon.com, Inc, or its affiliates.