As an Amazon Associate I earn from qualifying purchases.
I am sure that in terms of home security you are like me and it's very important for you to know your home is safe and secure. You don't want some intruders to penetrate your house while you are sleeping or away, right?
Recently, I have been thinking of how Allen+Roth products can help me achieve that.
Surely, they don't offer any home security products such as security cameras or alarms.  However, what the company does sell is motion activated lights and these can be used to make your home more secure.
If you install such a fixture next to your security camera, it will help to illuminate the breached area as well as the intruder and either scare them off or help the security camera to take better footage.
Let's take a look at what products you need to create a reliable home security system with Allen Roth lights and security cameras.
Allen+Roth Motion Activated Lights
What are motion activated lights? These are light fixtures that have a motion detector and a timer embedded in them.
The motion detector sensors infrared light that is radiated by humans and animals and electronically turns on the lights. It also activates the timer that will turn off the light after a certain period of time.
This allows not only to save electricity by keeping the lights off when nobody uses it but also to improve the security of the surrounding area by illuminating it once somebody approached the fixture.
Outdoor fixtures
Allen+Roth offers two motion activated light product lines: Castine and Stonecroft. Both offer a timeless classical design Allen Roth is famous for.
You can use LED bulbs with any of the light fixtures to obtain extra savings on electricity.
As of downsides, both lights need to be mounted on the wall and it limits the places where you can use them.
Castine lights
The fixture comes in a rubbed bronze finish in two colors: dark and light.
Here's the dark version.
No products found.
Here is the light version.
No products found.
Stonecroft lights
Stonecroft wall mounted light fixture comes in dark rust color.
Other light fixtures
Allen+Roth used to have more kinds of motion activated lights but unfortunately, these got discontinued.
If you are looking for a particular model, check out eBay listings
. They have a lot of offers of older Allne+Roth light fixture models.
Indoor fixtures
Unfortunately, Allen+Roth does not make motion activated indoor light fixtures.
Now, let's take a look at security cameras.
Security cameras: Why wireless?
Almost everything is wireless nowadays. Phones, internet, and now, even security cameras. This comes as no surprise, as most, if not all of our electronics and gadgets can be controlled wherever you are, even if you're miles away from where they're physically installed. But in all of the wireless advancements man has created, perhaps the most useful and the most helpful of such are the security cameras. At least, with wireless security cameras, you can now safeguard your home even when you're not there. Anything strange that might happen inside or around your house can now be detected by such hi-tech security systems. And you don't even have to wait to see the recorded footage and the captured images.
Sounds nifty, doesn't it? That's because it is. And in a world where almost everything depends on technology, you can now better ensure the safety and security of your family and property. But which ones should you get for your own home? Here are a few great suggestions.
10 wireless cameras to take a look at
Blink XT Home Security Camera
Perhaps the best part about Blink XT Home Security Camera is its motion-sensor. Arguably, no other security system can detect movement as swiftly and as precise as this particular camera. The moment the camera senses something moving about, whatever that might be, it'll automatically begin recording so that you'd see what happened yourself. Once it's finished, it'll be safely stored in a cloud wherein you can access to see the footage yourself. The best part? You don't have to pay extra for the cloud storage!
EZViz's 1080p Wire-Free Security
The EZViz's 1080p Wire-Free Security Kit is sort of like your standard security camera with one nifty and important feature: automation! Usually, security cameras only record footage of intruders and other events near and inside your home. But with this gadget, you'll know exactly when something strange is happening while the events are being recorded. This is because the moment the wireless camera senses something wrong, its built-in alarm system will automatically sound off, signaling you or anyone else in the family to be aware of what's going on!
iSmartAlarm iCamera Keep Pro
Sharp imagery is a key factor when it comes to hi-tech security systems. And in this regard, iSmartAlarm iCamera Keep Pro is arguably one of the best. Apart from the usual recording aspect, this small and sleek camera kit can capture an image with such strict sharpness that one would think that the intruder was posing for it. And since it's entirely compact, the camera will be easy to hide and camouflage, so much so that any criminal wouldn't see it as he/she tries to invade your home.
Nest Cam IQ Indoor
Want a security system with which you can actually make contact with whoever is visiting or intruding your home? Get Nest Cam IQ Indoor! It's most famous feature is the two-way sound system, in it that you can communicate with whoever is outside your home form the comforts of the inside or even when you're out. After all, this system is also one that can easily be connected to your mobile devices. When you want to warn intruders to stay away the moment you spot them, you can do so now with this ingenious security gadget.
Netatmo Welcome Home Security Camera
Sometimes, it's easy for security cameras to confuse those invited guests to those who aren't, and this creates quite a conundrum. Fortunately, Netatmo's Welcome Home Security Camera has a facial recognition feature that won't cause any awkward problems. Just scan the images of you, your family, friends, and other guests, and everything will be okay. More so for security reasons, this is also a good camera to ensure whether your kids have gone home, your housekeeper did his/her job, and many more.
Netgear Arlo Pro II
Many see the Netgear Arlo Pro II as one of the best security cameras in this list for a variety of reasons. The most common of such is that you can stream the footage live on your phone or any other mobile gadget. The moment something happens, you'll immediately see it transpire before your screen. This is great for not only thwarting uninvited guests but also safeguarding your home from all sorts of accidents, particularly when there's a fire or an earthquake. You'll immediately see how bad the damage is from such incidents.
Ring Spotlight Cam Battery and Spotlight Cam Solar
If a security camera is easy to hide, then that's the sort that you should go for. One such is the Ring Spotlight Cam Battery and Spotlight Cam Solar systems. An easy set-up and a few decorating ideas here and there and you're good to go. Any intruder won't notice that when they're near or around your house, they're already being detected by the camera. And wherever you may be when this is happening, the moment you spot someone or something, you can automatically ring the camera's built-in siren to scare them off or seek help from nearby people.
Tend Secure Lynx Indoor
Tend's Secure Lynx Indoor camera is another security system that has a unique and highly useful facial recognition feature. But unlike others in this list, what makes this particular camera extra nifty is that it doesn't need the face to be near in order to detect who the visitor is. Once the person's features, silhouette, or even profile doesn't match with any of the faces that it should recognize, it'll automatically notify you on your connected mobile gadget. And with its two-way sound system, you can immediately scare them off or talk to them as to why they're by your home.
Wyze Cam Pan
With such high-quality features and stunning innovations, most of these security systems can get rather pricey. But Wyze Cam Pan won't cost you as much, which is why it's fastly becoming a popular security system. most of the useful and helpful features that other cameras in this list contain—motion-sensor, sound detection, cloud storage, and more—are all found in this camera at a lesser price. And since it's so small, you can easily hide it from plain sight, whether outside your house or inside your home within the furniture.
Yi Dome Camera 1080p
Yi's Dome Camera 1080p is the perfect security system to install inside your home. Firstly, it's small, which makes it easier to camouflage so that intruders won't know they're being recorded. It has sharp motion sensors and sound detection, which means the moment they detect any sudden movement or strange sound and you'll be notified instantly. And whatever video they record or image they capture, they'll sure to be of the highest of quality!
Trust in these wireless security cameras to ensure the safety and security of your home. You never know, these gadgets might just save you and your family's lives!
Conclusion
When it comes to home security, Allen and Roth can still help you!
Sure, they don't offer any security products such as cameras or alarms. However, their motion activated light fixtures can be a good addition to security cameras. Just mount the lights next to the area you would like to protect and they will illuminate it once an intruder is nearby. At the minimum, it may already scare unwanted guests off. Also, it will definitely help your security camera to capture good clear images.
In this post, we explored what motion activated lights Allen+Roth offer and where to find them. We also took a look at wireless security cameras that can do a good job at protecting your house.
What do you think? Let me know in the comments!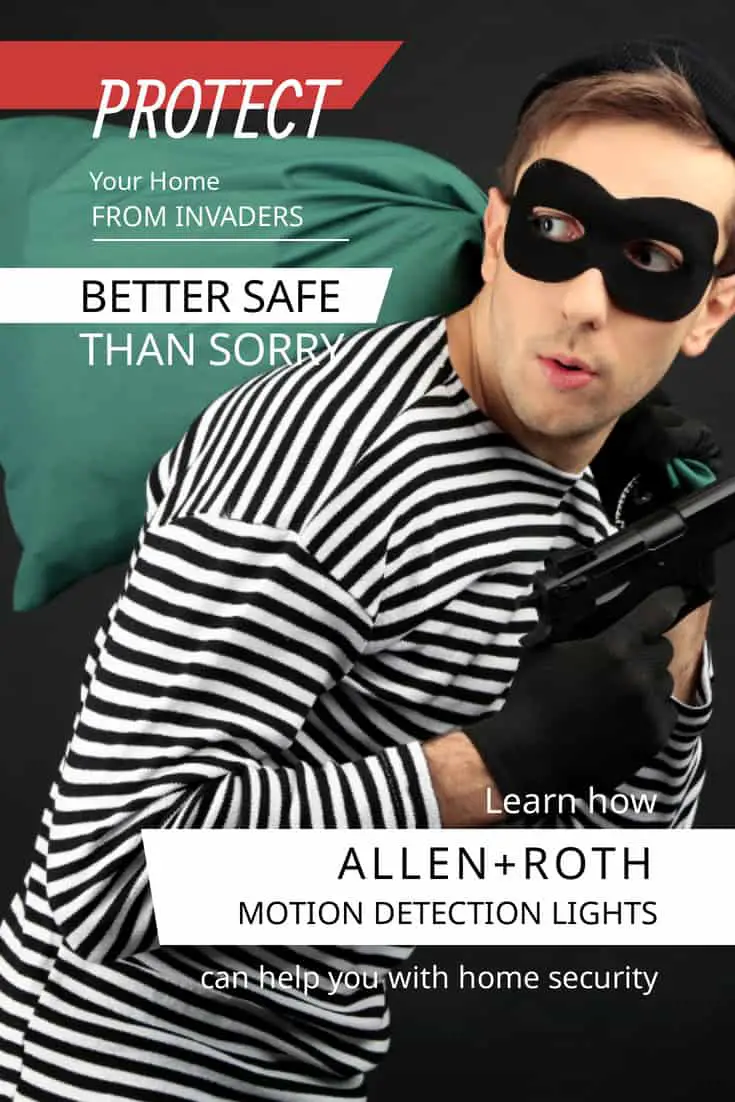 Amazon and the Amazon logo are trademarks of Amazon.com, Inc, or its affiliates.
Last update on 2023-11-28 at 05:26 / Affiliate links / Images from Amazon Product Advertising API